A pool table is a perfect addition to any game room. But do you need to spend a lot of money to get the best pool table available?
It turns out that the best billiard table models are more affordable than you would think. We take a look at the variety of tables available and recommend the best pool tables available on the market today.
We hope you find our recommendations useful. Just so you know we may collect a small commission from links on this page.
Our Recommended Pool Tables for the Home
8 of the Best Pool Tables Reviewed
Best Overall Pool Table for the Money
Barrington Hawthorne 100″ Billiard Table
Size: 8 ft (100" L x 56" W x 31" H) | Weight: 260 Lbs | Materials: Wood/Particle Board | Color: Green | Style: Classic | Price: $$$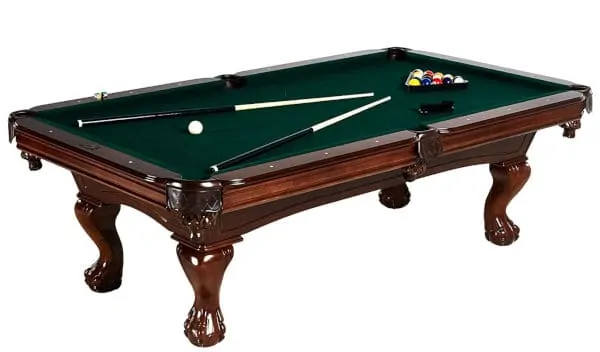 For the average home buyer looking for a good balance of value and quality, we recommend the Barrington Hawthorne 8ft table.
It's not the cheapest table on the market, but you will not be paying anywhere near $2k either. Although in comparison, the design and ball movement are well above their pay grades.
Well known for their billiard tables, Barrington have used a striking ball and claw leg design with the Hawthorne that gives it some class. Although the legs have plastic coverings and are not solid wood, they blend in well with the rest of the table and are easy to set up in under 2 hours.
The table surface is made of a 1" reinforced particle board with a 50% wool felt surface, providing smooth and natural ball movement across the table.
This table hits the sweet spot and is well suited for players searching for their first pool table or others that are looking to upgrade. It's seriously impressive and is well worth a look.
Pros
Sophisticated and exquisite styling make this one of the nicest looking tables. It's perfect as a centerpiece for any game room or cigar lounge.
The traditional style leather drop pockets give an authentic look and provide ample storage to keep the balls in place until the next game.
Crafted using quality wood with a veneer finish. This helps keep it resistant to scratching to help preserve the quality and the appearance of the table.
The 18mm felt appears well made to provide smooth play and the K-66 bumpers and side rails have just the right amount of spring.
Cons
This table is made from wood particle board and not slate. It therefore may be prone to warping and is not as durable as slate tables.
There are no leg levellers with this table so keeping it even can be a challenge.
This is a table that will get a lot of use at home, but it's not a professional table and will not play like one.
Best Pool Table Under $1,000
EastPoint Sports 87" Masterton Billiards Table
Size: 7ft (87" L x 50" W x 31" H) | Weight: 215 lbs | Materials: Wood & Plastic | Colors: Tan, Burgundy, Green | Style: Parlour | Price: $$
If you're in the market for a regular size pool table but don't want to spend a fortune, then add the EastPoint Sports table to your consideration.
It's well priced for an entry level table but your guests will not notice that from its design and aesthetics. Included in the pack come all the necessary accessories to get you up and running.
It's important to keep in mind that this is not a professional table, but you will not find many products with the same versatility for under $1,000.
Pros
This table weighs only 215-pounds. That makes it much easier to move than a slate table.
It presents well with the parlour design and will add value to any game room.
The MDF playing surface is one solid piece. The felt needs a few games to firm it up but plays well for the amateur player.
Parlour style drop pockets are decent quality. They may be a little stiff initially, so we recommend stacking the balls to get them into their normal state.
It's super easy to level with levelers on its feet and level adjusters under the playing surface.
Cons
This table is a little fragile, so it needs to be treated with some degree of care. We would not recommend adding weight or sitting on the table as it could cause it to flex.
The legs are made from wood but they come with cheap plastic covers which provide the claw style leg look. These are disappointing but they are not the centerpiece of the table.
The cues and balls are poor quality. We recommend upgrading these separately.
There are also no guides on the table (dots) to assist with setting up the rack.
Best Pool Table For Game Rooms
Barrington Urban Professional Billiard Pool Table
Size: 8 foot (95.5" L x 53.5" W x 32" H) | Weight: 298 lbs | Material: Wood and Metal | Color: Black | Style: Urban | Price: $$$$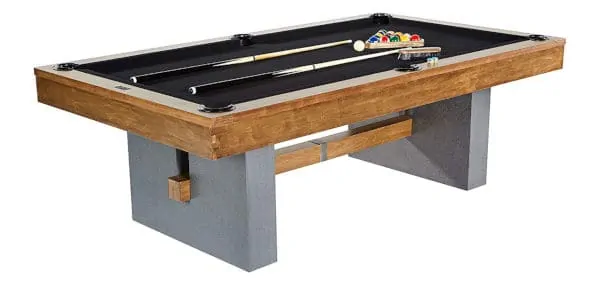 This eight-foot table has a really modern look that starts with the grey concrete legs. They not only add to the overall look, but they also offer a strong base of support as well as stability with their weight.
A light birch veneer covers the upper portion of this table and complements the legs, giving it a modern look that will fit almost any game room.
The felt surface is made to competition grade using upto 50% wool. This allows for a smooth yet zippy ball movement.
Finally the table includes a kit that will get you playing straight out of the box. It includes a set of chip-proof balls, 2 cue sticks, triangle, brush, and chalk.
Pros
The black wool felt offers a high-contrast color to play on and is made with 25 mm thick wool felt;
The premium cushion and leather cover drop pockets add to the appearance and playability of this billiards table. These components will not be found on cheaper models;
The sleek design of this table is made without compromising on strength and stability.
Cons
The downside to the concrete legs is that they increase the weight of the table to well over 400-pounds when it is shipped. It weighs more than many other wood bed table products will;
Its veneer covered beam between the legs can be damaged and may not be as effective for support as the manufacturer intended
Best Premium Pool Table
Fat Cat Reno II 7.5ft Pool Table
Size: 7.5 ft (89.5" L x 50.5" W x 31" H) | Weight: 335 lbs | Materials: MDF & Wood | Color: Burgundy | Style: Classical | Price: $$$
The Fat Cat Reno is designed for the cigar-smoking enthusiast looking to add sophistication to their game room.
This is not a slate table so it doesn't come with the slate price tag. Yet it scores enough points with us to enter the premium table category.
GLD Products have used various types of MDF for the construction of the Fat Cat Reno, including the legs and playing surface. The playing surface is made from a 1 inch thick MDF accuslate material, designed to resist warping over time. The legs use an MDF Maple Wood Veneer. Combined these reduce the weight of the table when compared to slate competitors.
It should take about 2 hours to build and you may need time adjusting to the slower speed of the thick wool felt. But you'll be surprised at the high quality of play it delivers.
Its classic, stylish design is perfectly suited to add a sense of class to any room. This is one for the avid but price conscious billiard player.
Pros
Includes only premium materials that are largely locally sourced from the United States;
The accuslate playing surface provides a quality that can mimic slate tables. It also comes with a 7 year warranty.
Features 1.5" thick, solid wood rails that include K66 rubber bumpers. The bumpers are great and have terrific elasticity and responsiveness.
A sophisticated design with french style drop pockets, beveled legs and decorated edge carving accents.
Eighteen diamond sights along the table's solid wooden rails help players to align their perfect shot.
No worries with uneven surfaces. The Reno includes leg levelers and all the accessories to get you playing.
Cons
For the more experienced player, the wool felt material may be slower than they like to play on. You'll also need to keep an eye on it as it can tend to shed.
Like many other tables reviewed here, the cues provided as part of this table are not up to scratch. We recommend purchasing these separately.
Best Outdoor Pool Table
Playcraft Extera Outdoor Pool Table
Size: 8ft (99" L x 55" W x 31.5" H) | Weight: 326 lbs | Materials: Aluminium, Plastic & polytech cloth | Color: Silver & Blue | Style: Modern Outdoor | Price: $$$$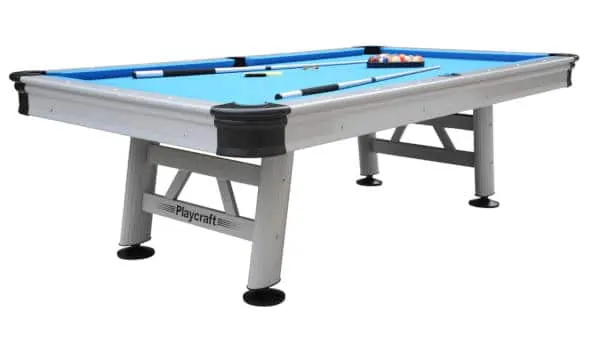 One thing you must have when playing billiards outdoors is a water-resistant table. The Playcraft Extera pool table certainly ticks this box. From the frame and railings, to the bed table and the tablecloth, Playcraft have got you covered!
The company has a wealth of experience designing game room products since 1975 and it shows in the design and attention to detail in this table.
A weatherproof and UV resistant polytech cloth covers the table's 1 inch composite playfield. The polytech material is great for the weather but has an impact on gameplay. It delivers an unnaturally fast ball movement.
The playing surface is supported by aluminium rails, aprons and legs, all with the same anti-rust treatment. Aluminium is also used for the corner post and cap, giving the table a great chance of withstanding harsh weather conditions.
One of the must haves for any outdoor table are leg levellers to help keep the table balanced on uneven surfaces. The Extera pool table comes with a set of sturdy, 6 inch levellers that will allow you to play on most surfaces.
Pros
Legs, rails, and corners are made from aluminum, which has natural corrosion resistance.
The polytech cloth comes in a stand out electric blue colour and plays better than many other outdoor tables. This material can handle moisture, heat, and sunlight well and will last longer outdoors.
Very fast ball movement which makes it fun to play on.
Comes well equipped with cues, balls and a solid outdoor cover to use when you're not playing.
Easy to assemble but might require 2-4 people to move into position.
Cons
A full eight-foot table is going to need a lot of room. This pool table may be too large for most people's decks or patios.
Like most outdoor tables, ball movement is not as natural as indoor tables so you'll need to make some adjustments to your game.
Playcraft only offers a 1 year warranty which isn't a lot for an outdoor table.
Best Conversion Pool Table
Hathaway Spartan 6′ Pool Table
Size: 6 ft (72" L x 38" W x 31" H) | Weight: 100 lbs | Materials: Melamine/MDF | Color: Black/Red | Style: Modern | Price: $$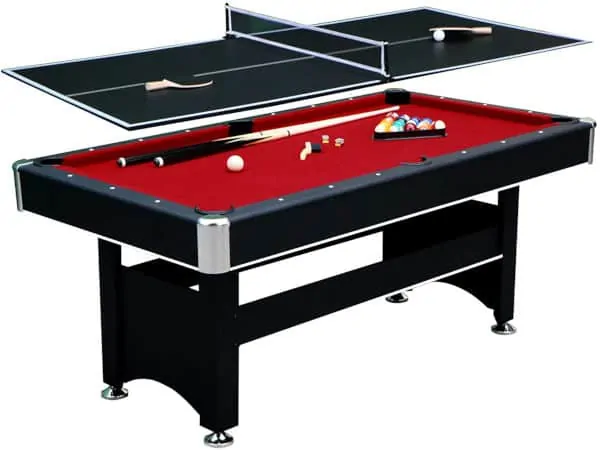 Tight on space and not sure what to choose? Maybe a conversion table is suited to you.
As a life-long table tennis player, I can appreciate this two-in-one product. Combining a mid-sized pool table with a table tennis top allows you to enjoy both games while saving real estate in your game room.
The table tennis top fits securely over the pool table and is light enough to be moved without hurting your back.
The Hathaway Spartan fits the bill as a great value and practical product that can suit most game rooms.
You can also find reviews of ping pong conversion tops for your pool table for more options.
Pros
This combination billiard table and table tennis design are offered at a friendly price. This can be attractive for those looking for a compact version of two game room favorites. It's also ideal for parents wanting maximum entertainment for their dollar;
This product is roughly six feet long and just over three feet in width. That makes this one of the more compact models that are being reviewed here and will prove a match for game rooms with little space;
Two support bars are placed across the bottom of the table, one on each side. This added stability will help hold the table together, even when the kids climb onto it.
Cons
The smaller size of this 38 by 72-inch pool table may not offer the same challenge for players used to full-sized surface play. At 31-inches high, the table is also a bit shorter than many other pool table products;
It uses melamine across the platform, which can be prone to scratching and scuffing on the surface. This problem can be compounded by younger players who have not mastered care of their toys and games.
Best Portable Pool Table
GoSports 6ft & 7ft Portable Billiards table
Size: 6ft (76″ L x 43″ W x 31″ H) & 7ft (84″ L x 47″ W x 31″ H) | Weight: 120 lbs (6ft) and 150 lbs (7ft) | Materials: Synthetic & Alloy steel | Color: Black, Blue & Red | Style: Portable | Price: $$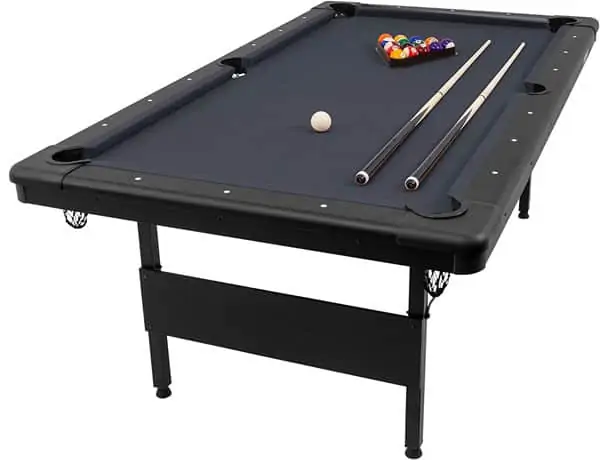 Have you always wanted to buy a billiard table but don't have the room for it? Well a portal pool table may be the right option for you.
Portable tables are perfect for players in apartments, offices or anyone who doesn't want to deal with a full size table. It's also a great way to get started in the game as these tables are well priced.
After reviewing many options, our pick for this category is the GoSports portable table. Buyers have the choice of a 6ft or 7ft option, as well as a range of colours to choose from.
There are few differences between tables in the category but things to look for are table stability, playing surface and ease of storage.
While game play is not comparable to a regular table, the GoSport Portable has enough quality to make the game enjoyable for everyone!
Pros
Easy to store by folding both legs inwards. This also means you can get from storage to playing in an instant.
The felt produces smooth and straight ball movement. The speed is also decent for a sub $1000 table.
The rails provide exceptional rebound and the pockets are durable enough to last a few years.
Leg levelers are included and are a must with portable tables.
A ball box is also provided to make it easier for storage.
Cons
The stability for a portable table is unlike a standard table, so take extra care when playing.
It has two supporting bars under the playing surface but it could use some extra reinforcement.
The felt is thin so something to keep an eye on over time. You may need a replacement sooner than a standard table.
The leg locking mechanism is not as secure as it could be.
Best Mini Pool Table For Kids
CHH Mini Folding Pool Table
Size: 44″ L x 29″ W x 29″ H | Weight: 40 lbs | Materials: Hardwood | Color: Green | Style: Mini Foldaway | Price: $
We are all for getting kids involved in game room activities. It's a great way to get them to socialise and get competitive. This table is designed with little players in mind, with features that put the game in their reach.
The mini folding table is made using hardwood, felt material for the surface and includes net pockets. It's a great way to introduce younger children to the game of pool for homes that are tight on space. Although, if your kids are serious about the game, they'll want to move on to a 6ft table rather quickly.
While the overall play is not comparable to a regular table, the table has enough quality to make the game enjoyable for everyone!
Pros
This product is designed for children eight years and older. That allows kids to become familiar with pool on a table that is designed for their smaller size;
This product also comes with cue sticks, balls, and chalk. This will let kids get to playing right away;
The folding leg design allows parents to break the table down and store it when the kids aren't playing
Cons
It uses folding legs that will not offer the best stability;
The balls are smaller and can be a choking hazard for younger children;
Material quality will not be the best, as expected for a cheaper model for kids.
Pool Table Buying Guide
Don't let the walls stop your shot
An important consideration when looking at a billiards table is the amount of room that you will need. When adding a table to your existing game room, you need to provide for adequate space around the table for making shots with a cue.
A room should be at least 14 x 17-feet (3.8 x 4.9 meters) for a seven-foot table and 14 x 18-feet (3.96 x 5.2 meters) for an eight-foot model. These measurements take into account players using a standard 58-inch cue and a comfortable amount of room they need to play.
What's under the felt?
The horizontal playing surface is referred to as the bed table. It can be made from slate, synthetic slate, Medium-Density Fibreboard (MDF), wood paneling, or honey-combed plastics. Although, you will find that most billiard bed tables are made from either MDF/plywood paneling or slabs of slate.
Board bed tables (MDF)
Pool tables with these types of tops will use MDF or Plywood. This is considered the second most popular bed table surface on the market and has unique features worth considering.
It should be pointed out that this type of playing surface is found on seven-foot and below tables. Eight-foot tables do not normally use MDF or plywood as they are likely to warp due to the larger surface area.
Advantages
The price point of these materials is much lower than slate;
It weighs less, making it easier to transport, set up, support, and move around.
Disadvantages
The surface does not play as smoothly and it can generate more noise;
This type of surface will warp over time, causing issues with a ball's travel;
Seasonal changes, including humidity fluctuations, could affect the panel.
Slate bed tables
Slate is the most popular material used for bed tables and has been in use since 1826. It is made from clay, fine grains, mica, and quartz. This rock is cut into slabs that are made perfectly flat and then polished. As with boards, slate has distinct properties on its own.
Advantages
A more level and smoother surface, features that improve ball movement and speed;
Stone is far more durable than other bed table surfaces;
Will not warp over time or due to humidity, and is far harder to damage.
Disadvantages
It costs more than other materials;
It is heavier, something that will make it more difficult to transport, set up, and move around;
You need to make sure it is located in an area that can support it due to the weight.
How to slate
Another option you will need to consider with slate bed tables is selecting a solid piece vs a three-piece surface.
Single piece slate surfaces are thinner than the three-piece, but can still come in at 450-pounds or more. A thinner sheet can also hold imperfections that are not found with three-piece slabs that are often at least .25-inches thicker. The major advantage with a single slabbed table is that it will not require as much realignment after moving it.
Not only will a multi-piece bed table usually have fewer imperfections, but they are also easier to level on uneven flooring. However, it will take more time to level three surfaces when compared to one.
The smaller slabs are also easier to transport into your home, especially if your playroom is in a basement or through a doorway with a tight corner. This may be a mandatory option if you will be moving the table by yourself, as one-piece slabs are just too bulky and heavy for one person.
Covering your bed table
Billiard cloth, also referred to as felt, is used to cover the rails and playing surface of the pool table. A density of 21 to 24-ounce materials is often used, although cheaper models may employ lighter weaves that won't last as long.
Worsted wool has a seamless weave that is preferred for playing surfaces. It is also more resilient and can be easier to clean.
Billiard Pockets
This is really a matter of personal preference as they perform a similar function. An exception are the pockets connected to an automatic ball return system (adding convenience at a higher price point and additional weight). Although these are usually only found in pool parlours.
Plastic pockets are often found on cheaper tables, while many commercial tables use rubber. Many residential tables come with leather drop pockets.
Holding it all together
Many budget-friendly billiard tables make use of MDF or softwood panels to make the frame. This will cause sagging if you have a heavy slate bed table. Slate tops will require a frame made from hardwood.
Light tables can get away with four legs to support the structure. The best billiard table products will use six legs on heavy slab tables.
Frequently Asked Questions
What is the best brand of pool tables?
There are many brands that produce quality pool tables, including Barrington, Hathway, MD Sports, Imperial and Brunswick to name a few. They all have their key differences and styles, so its difficult to pick just one.
We've covered a review of our popular pool tables but its an individual choice at the end of the day.
What is the best size pool table for a home?
A regulation size pool table measures at 8 feet long. This can often be too large for a lot of spaces, so there are a great number of options for 6 foot tables. One that we like is the Hathaway Spartan 6′ conversion table.
So it all depends on the size of your space and whether you can fit a regulation size table.
How much does a good quality pool table cost?
The price of pool tables ranges anywhere between a few hundred dollars to thousands. You can find good quality tables for less than $1,000 dollars, however in most cases you'll find that quality increases with price.
If you're looking for a slate table that will last for 10 years or more, then be prepared to spend over $2,000.
What should I look for when buying a pool table?
There are a number of factors that you need to look out for when buying a pool table, which we've gone into more detail in our buying guide.
But in short, the most important factors include:
Size of the space where you intend to play
Indoor or outdoor use
Materials of the playing field
Felt strength and material
Frame materials and build quality
Quality of pockets and legs
Accessories (balls, cues, etc.)
How do I pick the right pool table?
The following questions will help you decide on picking the right pool table include:
Budget – how much do you want to spend?
Usage – is this for occasional recreational use or something more serious?
Players – who will be the main users of the table? Do they have any special requirements?
Location – where do you intend on keeping the table? Inside or outdoors?
Space – how big is the space where you intend on keeping the table?
If you answer these questions and then review our buying guide, you should have enough information to know what type of table is for you.