Enhancing your games room can often mean making tricky decisions on how to best utilise your space. One of the most popular table games that you'll find in many games rooms is pool. But once you've purchased a pool table, there's often not much room left to fit anything else – unless you've built yourself a man cave.
That's where ping pong conversion tops for pool tables come in. There are a growing number of these products out in the market that allow you to add a table tennis table on top of your billiard table. Even more, the quality of the gameplay with conversion tops can rival some of the better tables out there.
We've reviewed a range of conversion tables, identified what you should look out for if and selected our top 5.
We hope you find our recommendations useful. Just so you know we may collect a small commission from links on this page.
Table
Our Rating
More info
Joola Table Tennis 15mm Conversion Top


Best Value

Check Price
Martin Kilpatrick Ping Pong Table for Billiard Table
Check Price
Butterfly Ping Pong Table for Pool Table
Check Price
Rally and Roar Table Tennis conversion top
Check Price
JOOLA Tetra – 4 Piece Ping Pong Table Top


Good for Kids

Check Price
Best Ping Pong Conversion Top Reviews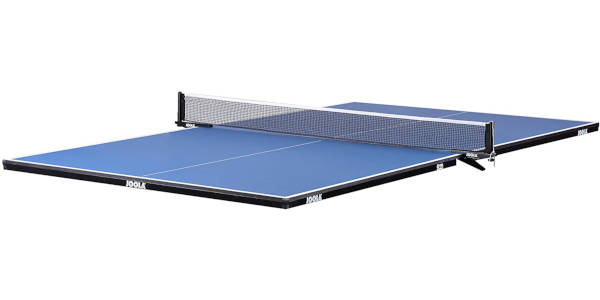 Pros
Great playing surface
Easy to setup and sturdy
Full coverage padding protection
Cons
Poor quality net
Heavier than some lower end tops
A conversion top worth considering is the JOOLA Conversion Table Tennis top. This is our overall top pick for the everyday player who is looking for value as well as decent gameplay.
The table thickness of the JOOLA conversion table tennis top is 15mm or ⅝". This combined with the MDF material, makes for an excellent playing surface that rivals some higher priced indoor tables. The table top is screen printed to give the coated surface its finish, creating a consistent ball bounce and good speed.
JOOLA have paid particular attention to protecting your under table. They have applied full EVA foam padding along the entire bottom of the table top. The foam padding is approximately ⅛" in thickness and provides excellent coverage and protection for your billiard table. This conversion top is on the heavier side weighing 115 lbs, but together with the foam protection, makes the table extremely stable.
The table separates into two half pieces and it's recommended that two people assist during setup due to the weight.
So are there any negatives to this table? Well there aren't a lot. If we were being picky, there are two areas you may need to watch out for. The first is that if you're placing the table over your billiard table, you may notice some sag towards the centre of the table. To help overcome this some folks have added additional foam pads or MDF underneath to add additional support to the pool table.
The other is with the net system, which is not the worst but is still poor when compared with regular table nets. Overall complaints are centred on the tension string which is used to tighten the net. The string can pop out of the notch and is quite thin. The net posts also don't match the quality of the board.
Even so, the JOOLA 15mm conversion top is a terrific, versatile product that is our top pick for best ping pong conversion table top.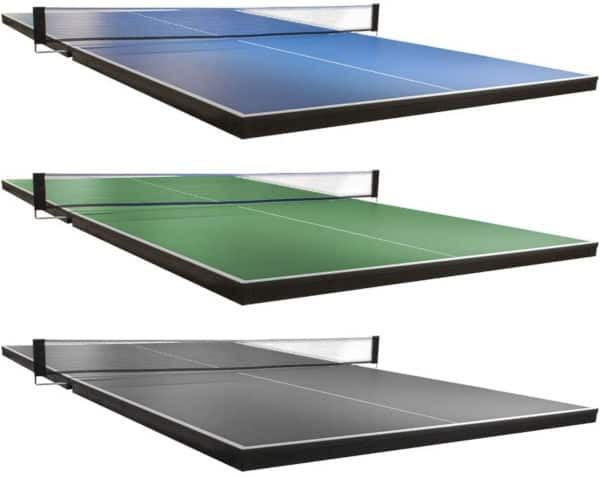 Pros
Category-leading playing surface
The sturdiest table in the category
Unique connection system
Cons
Foam pads do not provide adequate coverage
The heaviest table in the category
Expensive
Put simply, the Martin Kilpatrick is the Rolls Royce of table tennis conversion tops. Manufactured in Germany, it comes loaded with features, a great playing surface and is made for the more serious player.
It's one of the few conversion table tops that you will find that comes in a ¾" thick top. This is supported by a 1 ½ inch removable metal rail which is attached to the side of the table, making it the sturdiest conversion top we've reviewed. It's also the heaviest, weighing in at 150lbs, so it's not made to be moved around.
The playing surface is second to none. Our experience playing on the surface echo's many other reviews, that it feels similar to playing on a good quality standard ping pong table. The bounce that it achieves is true and consistent all over the board. Even professional players would be impressed!
A unique feature with the Martin Kilpatrick is the dovetail connecting system that locks in the two sides. This prevents table separation and any movement during play. While it adds to the setup time as you'll need a wrench and screwdriver to fasten the locks in place, it's a small price to pay for securing the table top.
What's more, the Martin Kilpatrick is one of the few conversion top tables that come with a 3 year warranty.
So are there any downsides? Just one. The foam protection pads supplied are quite thin and do not provide adequate coverage for the size and weight of the table. We recommend reinforcing the padding if you intend to go with this option to better protect your pool table.
Pros
Excellent playing surface
Exceptional build quality & 3 year warranty
Best in class net system
Cons
No locking system for two sides
Heavy
Expensive
The next product in our list of best table tennis conversion tops is made from industry heavyweight Butterfly. Best known for their premium quality paddles and indoor tables, they've paid the same attention to detail to the table top as their regular tables. They've even manufactured it in the same warehouse.
The only other table top with a ¾" thickness, Butterfly have used a pure wood material similar to what they use in their top end institutional tables. This produces an exceptional bounce which is on par with the Martin Kilpatrick. But it is lighter, weighing 140 lbs.
Unlike its closest competitor in the category, the Butterfly comes fully covered with a foam backing. The spongy material has considerable grip which secures the table top. For further protection and sturdiness, removable metal rails along the outside of the table have been added.
Butterfly have pulled out all the stops on this conversion top. They have backed it with a 3 year warranty and supplied arguably, the best net system for a conversion table top. The net post set uses the same clamp locking style you will find on their standard ping pong tables and is made to last.
What it lacks in comparison with its competitors? The only thing missing with the Butterfly is some way of locking the two table sides together. Even with its weight and padding, we found that it could still move around depending on the pool table surface that it is lying on.
Pros
Good quality table top
Dual model with 2 or 4 pieces
High quality net system
Cons
Heavy
Surface can scratch easily
Rally and Roar are well known for producing some excellent game room equipment and their conversion top is proof of this. They have created a conversion table that has two models, one that separates into two pieces and the other into four.
The key differences between the two models apart from the number of pieces is the thickness of the table. The 4 piece model comes with a ½ inch thick table, whereas the 2 piece has a thickness of ⅝". As you can imagine the four piece table top also has a small seam that runs down the middle of the table which can impact the trajectory of the ball bounce. However it's not as noticeable as on other table tops such as the JOOLA Tetra 4.
The Rally & Roar is sturdy and includes silk print striping to help provide a consistent ball bounce. We found that it actually lacked a little bounce and it wasn't as responsive as the JOOLA.
It does provide protection for your pool table with the inclusion of large 3mm EVA padded underside strips. While it's not full cover, the strips are wide and lengthy, so they cover most of the table.
One of the common complaints for the Rally & Roar is the playing surface can scratch easily, so take care when handling or transporting.
Finally the net that is provided is one of the better sets in the category. The net posts are made from metal while they can be a little difficult to clamp, they should last longer than a plastic set. The net material and tension adjusting mechanism is also made to withstand a few seasons.
Pros
Great foldaway design
Light weight ping pong table
Suitable for younger children
Cons
No table clamp included
Poor quality net
Seam down the middle impacts play
JOOLA have produced an extremely popular table tennis conversion table that is well suited for younger children and beginners alike. The Tetra 4 piece is intuitively engineered in two pieces, with each piece folding in half (or a quarter of the full table dimension) using a 3 hinge system. The Tetra 4 is also one of the lightest conversion tables that you'll find weighing 85 lbs.
This not only provides easy storage – even under your pool table if it allows – but it also makes it possible for children to assemble with its small size and lightweight. JOOLA have definitely found a sweet spot with this product.
To achieve this design and weight, some compromises had to be made. The Tetra 4 is one of the thinnest table tops that we've reviewed measuring 12mm and the folding design does produce a seam along the centre length of the table. This results in an imperfect bounce and the chance of play being affected by the ball landing on the seam. Some customers have also complained that the two sides can be slightly uneven due to the hinges pushing the table up in the centre. This is only the case if you have the table lying on a completely flat surface like a dining table.
The JOOLA Tetra offers some protection for your pool table with the inclusion of protective foam pads. These pads don't cover much space and we recommend purchasing additional foam or use other protection.
You will also find a below par net with this table top. The posts are made of weak plastic and the net material tends to stretch easily and sag. A large number of complaints for this table are for the net set which can often be broken on arrival.
JOOLA has created something different with the Tetra 4 that is great for the young beginner. But if you're after something a little more professional than one of the other products is for you.
Ping Pong Table Conversion Top Buying Guide
There are a few things to consider when buying a ping pong table conversion top, which are unlike buying a regular table. We explore some of the most important to help you understand what table top might be right for you.
Space
The first thing to consider when determining whether you need a conversion table is the size of the area you are intending to play in. Your games room might already have a pool table assembled and fitting in a regular table would not be possible.
A regular sized table tennis table has the following dimensions :
9 feet long (2.74m)
5 feet wide (1.525m)
2 feet and 6 inches high (76cm)
So you would need quite a large room to house both pool and indoor ping pong tables. There are alternative sized tables that you could consider. We've reviewed a number of mid sized and mini ping pong tables that might be suitable.
But if none of these seem like a viable option and you really want to play some ping pong, then a conversion table is a great idea.
Table Top Material
As with regular indoor table tennis tables, the tabletop is the most important component that will impact optimal gameplay. With that in mind, table tennis conversion tops can be just as effective as a regular table.
The first component to a good quality conversion top is the build material. The materials used in table tops varies slightly. Products in the higher end are usually made from (Medium-Density Fiberboard) MDF wood. This is the same material you will find in regular tables, so you should expect a decent bounce from these conversion tops.
Other table tops are made with particle board. The main differences between the two are that while particle board table tops are lighter than MDF, they are not as strong and dense.
Table Top Thickness
The second component to a good quality table top is the thickness of the table. Table thickness not only impacts the ball bounce, but also the speed at which the ball travels.
You will generally find conversion table tops come in the following sizes:
12-16mm (⅝ inch) – suited for beginners, the ball bounce achieved is not natural and be higher than it should be.
19mm (¾ inch) – suited for more advanced players, the ball bounce is more realistic, will allow for faster play and support a variety of playing styles.
If you're a ping pong beginner, you may not feel the difference with a thinner table top compared to a thicker one. Thinner tables are usually cheaper and lighter in weight than the thicker table tops.
Foam Protection
While having a conversion table top made from MDF may be great for gameplay, its not the greatest for your pool table. Particle board and MDF materials are prone to scratching surfaces underneath them. No matter how sturdy they are, conversion tops are likely to move around so its best to protect whatever table you're laying them on.
Most tables will include some form of foam padding (EVA). The foam is there to protect your table but also to help keep the conversion table top in position and prevent it from sliding around.
Some table tops come with fully lined foam protection. Whereas others provide foam pads that can be attached using an adhesive material. The more protection you have the more your pool table will thank you. We recommend looking for a conversion top which has large foam padding coverage. It's also a good idea to have a pool table cover or use some other form of protection if you have an expensive table.
Size & weight
With the standard conversion table top dimensions being 9ft x 5ft, you need to have a table that is within the right dimensions to support the table top. It is important that the table you use is just right in size. If its too big, it will have an overhang and be awkward during play. If its too small, it might be unbalanced and unsafe.
The minimum sized table that is recommend to support a conversion table top is 7ft in length and 3ft in width. Your table should then also be smaller than 9ft in length and 5ft in width.
Standard (8ft) billiard tables common in the United States for recreational play measure at 88 inches in length and 44 inches in width. They're ideal for supporting most conversion table tennis tops. A word of caution for those of you with snooker tables. Your table is normally 2 ft longer than most pool tables, so beware!
The table you use to hold your conversion top should be at least 76 cm (2ft 6inc) high. By adding the top to a regular pool table, you will be playing from a higher surface to normal. This will not have a large impact on play and players should get the hang of it quickly.
Lastly, the weight of the conversion top is another important consideration that can often be overlooked. Most table tops weigh anywhere between 90 and 130 lbs. It's important to consider how often you intend to play and whether constant switching between pool and table tennis will occur. If so, heavier tables will require at least two people to set them up, so a lighter table could be a better option.
Ease of Setup & Storage
Ping pong is usually played with at least two players, so in most circumstances you'll have two pairs of hands to setup the conversion table.
The benefit of conversion table tops is that they should take no more than 5 minutes to setup. You will find that some table tops will fold up into even quarters and others are two separate pieces.
A four quarter table is easier to setup and could be completed by one person. However, the four quadrants cause a gap in the middle of the table (normally the doubles serving line) which can impact the ball bounce during play. A table top with two separate halves is heavier but will provide the most optimal game play.
Conversion tables require much less space than regular tables. Most provide easy storage against a wall or under your couch or bed. Either way you will hardly notice they are there.
Durability
Table tennis conversion tops are prone to more wear and tear than regular tables, simply because they're handled more.
How long they last all depends on the care given by you as the owner. It's common to experience damage around the outside of the perimeter of the table for table tops that are stored against a wall. While this isn't ideal, it doesn't have any impact on play.
The playing surface is what you don't want to get damaged as any scratches will have an impact on ball movement. So when storing you might want to keep both playing surfaces together, exposing the under side only.
Most tables will only provide a 1 year warranty but some of the higher end tables will provide a 3 year warranty.
Accessories
The majority of conversion table tops will include a net post set. The quality of these will vary. Some of the entry level models will provide plastic net posts and lower quality net materials that are unlikely to last more than a few matches.
The higher end tables will provide metal net posts that clamp to the table top. These are sturdier but are also prone to damage if not cared for correctly. Net sets that are made for regular tables can be used for most conversion tops.
It's unlikely that a ping conversion table top will also come with paddles and balls. These are usually purchased separately and are also the same as used for regular tables.
Frequently Asked Questions
Can you put a ping pong table top on a pool table?
Yes you can! With a table tennis conversion top you can transform your existing pool table to a table tennis table in seconds. Conversion tables have been specifically created for players who appreciate both games in mind that don't have the space to house both pool table and table tennis table.
Can you use a ping pong table as a dining table?
Why not? You'll find most tables are made from medium density fibreboard (MDF) and measure around 2 ft 6 inches in height. So most dining chairs are a good size for them. Better yet, you can transform your dining table into a ping pong table using a ping pong conversion top.
Is it easy to setup and remove a ping pong conversion top?
This depends on the model and the fastening of the conversion top to the table below. However, most ping pong conversion tops can be set in minutes. While they can be used temporarily on outdoor tables, it's best to keep conversion table tops indoors.
Best Overall Ping Pong Conversion Top
Considering all the factors we've listed, the JOOLA 15mm Conversion top is our choice for best ping pong table top for your pool table. It sits in the perfect range of size, setup time, thickness and weight to cater for a large audience of recreational players.
Against the more modular tables such as the JOOLA Tetra 4 and the Rally & Roar, the thicker table top and full foam backing will make it both enjoyable to play and provide peace of mind for your pool table.
While the Martin Kilpatrick and Butterfly stand out as high quality tops, they're bulky and not made to be moved a lot. Not to mention, these tables are in the premium end of the price range.
Conversion table tennis tops are a great solution to save on space and get you playing on existing pool tables. But we would always recommend going with regular indoor ping pong or outdoor ping pong tables if space and budget allows.