So you want to play table tennis and in the market for the best ping pong table for you? Well you've come to the right place! Ping pong is one of those must have games for any recreation room. This round up covers the popular tables available, differences to look out for and what's best suited for your household or workplace.
We hope you find our recommendations useful. Just so you know we may collect a small commission from links on this page.
Our Best Table Tennis Table Recommendations:
Best Indoor Ping Pong Table Reviews
Killerspin MyT7 Pocket Ping Pong Table

Price: $$ | Surface thickness: 18mm MDF | Frame: Steel frame | Design: Separate halves / Rollaway | Weight: 220 lbs | Colours: Blue, Black, BiancoSky | Playback: Yes | Paddle & Ball Storage: Yes | Warranty: 1 year
Pros
Stylish design
Sturdy and plays extremely well
Great value
Cons
No corner protectors
Net post system is poor
Tabletop surface might show ball and fingerprint marks
The Killerspin T7 table tennis table is a perfect combination of quality, style and affordability. We've long been fans of its cousin the T4 for as an entry level table, but the T7 provides additional value and is one of our favourite indoor tables.
The first thing you'll notice about the T7 is its stylish looks. It comes in Blue, the popular black and a BiancoSky colour, which is a very light blue. Killerspin have used a repeated roller coating process to give the tabletop a smooth, matte finish.
Looks don't compromise on performance when it comes to the T7. The table is structurally sound and sturdy, so you won't find it moving around during even the most intense rally's.
The 18mm tabletop is made with semi pros in mind and no doubt you'll find a few T7's at local clubs or bars. The table is geared for performance and optimal for competitive or casual playing. You'll notice great bounce and plenty of spin on the playing surface of the T7.
Unlike some of the other tables in the category, Killerspin include an innovative and easy storage area for paddles and balls at either end with the T7. It also boasts an amazing 8 casters per side, each with locking mechanisms.
There are only a few points we've found where the T7 falls short, which may not bother you. Firstly there are no corner protectors on this table, so any fast moving kids will be in some serious danger if they connect. The net supplied with the table uses a clunky screw-on clamp, which we all know is prone to damage after some use.
Finally the matte finish has raised some concerns with some customers about leaving ball and hand marks visible on the surface. If this is a bother you might want to consider the lighting in the room that you store the table.
Barrington Fremont Ping Pong Table

Cost: $$ | Surface thickness: 18mm | Frame: Solid wood | Aprons: 1.125 inch steel tube | Design: One piece construction | Weight: 245 lbs | Colours: Black | Playback: No
Pros
Classy, solid wood design
Built to last
Excellent tabletop surface supports consistent ball bounce
Cons
Not easy to move once setup
Extremely heavy
No Playback mode
The Barrington Fremont will add a touch of class to your game room without the hefty price tag. Crafted using fine solid wood, the table adds a furniture-like design and a sophisticated element to the room.
It comes together by bolting on two tabletop pieces to the sturdy wooden legs. This holds together securely and is difficult to move once it has been assembled. Better yet, you don't need any tools to put it together.
The Barrington wins the style award from all the tables we've reviewed hands down. But aside from its good looks, the table is built to last and provides decent gameplay. It comes with an 18mm tabletop that ensures a smooth and consistent ball bounce. It doesn't play as quick as some other higher end tables, however supports spin shots quite well.
You'll also find a tournament grade net included, but no storage options for your paddle or balls.
The main problem is that once the table is setup, it isn't going anywhere. You can't move it nor fold or store it. It's also quite heavy so in case you do want to move it, make sure you have a spare pair of hands available. Finally, there's no playback mode either.
Choose the Barrington if you have a dedicated room for the table and you want to impress your guests.
Head Summit Ping Pong Table

Price: $$$ | Surface thickness: 15mm – 18mm | Frame: 1.125 inch steel frame | Aprons: 1.125 inch steel tube | Design: Separate halves | Weight: 200 lbs | Colours: Blue (12, 15mm) & Black (18mm) | Playback: Yes
Pros
Excellent surface providing consistent ball bounce
Sleek design
USATT Approve
Cons
3 inch caster wheels are poor quality
Heavy and requires 2 people to assemble
Traditionally known for their tennis rackets or ski equipment, Head have added table tennis to their portfolio. The Summit has recently caught our attention as one of the most impressive mid range indoor tables on offer.
The table comes in a few different size tabletops, including 12mm, 15mm and the 18mm. We've focussed our review on the 18mm as it proves to be the highlight of the bunch. For a reasonable price you're getting a good quality and equally good looking table tennis table.
The playing surface is quite zippy and you'll notice a fantastic and consistent bounce. The spin produced off the table is what you expect for this type of table. You'll enjoy playing loops or defensive blocks.
The colour scheme of red and black stands out and is a big hit among customers. Equally impressive are the unique paddle and ball storage options and the tournament grade quality net set and posts. Consistent feedback from customers is that the table quality remains after months of playing.
Looking at some of the downfalls, it really comes down to the undercarriage and caster wheels. The steel legs are powder coated but only 1.125" thick which is not as sturdy as you would expect. The 3 inch locking casters are also a little flimsy, so don't be surprised if the table moves around a little during aggressive play.
JOOLA Rally TL Table Tennis table

Price: $ | Surface thickness: 15mm MDF | Frame: Steel 1.5 inch | Aprons: Durable 1.5 inch resin apron and 1.5 inch diameter steel legs | Design: Separate halves | Weight: 137 lbs | Colours: Blue & Gray | Playback: Yes
Pros
Well constructed
Great looking design
Includes corner ball holders and scoring system
Cons
While its a step up, you don't get a whole lot more from the JOOLA inside
Our review of the mid range tables starts with the JOOLA Rally. It's also referred to as the JOOLA Motion or JOOLA Triumph. You can easily get started with this separate half rollaway table in around 15 minutes by fastening 8 bolts. The table comes in both ⅝" and ¾" table top sizes. While we focus on the 3/4″, most of the characteristics apply to both sizes.
The table top is made from a medium density fibreboard and provided consistent bounce during testing. JOOLA apply a detailed polyurethane paint process to the playing surface. This helps the ball travel faster and also protects from scratches and markings. After several hours of play, we didn't notice any wear and tear.
The undercarriage is the same in thickness (1.5 inch) and materials as the JOOLA inside – so it carries a consistent level of quality construction. JOOLA have added some nice touches which differentiate the Rally from others. The frame includes corner ball holders for upto 3 balls and you'll never lose count with a magnetic scoring abacus. The tournament grade quality net post set found on the JOOLA Inside is also included.
Finally, the JOOLA Rally comes with some impressive safety features, including:
a double anti-tilting locking system that locks the table into position during storage and while playing; and
3 inch locking wheels are well made and will ensure stability.
STIGA Advantage Indoor Table Tennis Table

Price: $ | Surface thickness: 15mm MDF | Frame: 1.5″ steel | Aprons: 1.5″ steel tube apron | Design: Separate halves | Weight: 110 lbs | Colours: Blue | Playback: Yes
Pros
Solid construction
Good value for money
Best bounce in the category
Cons
Net set quality not great
Table is heavy & not easy to move
Coming from one of the largest brands in ping pong is one of the most popular indoor tables of the last 5 years. The STIGA Advantage is one of the most versatile rollaway tables that would suit the majority of amateur players.
The STIGA advantage is made to regulation size using a durable 1.5 inch steel legs and frame. It also boasts a 1.5 inch resin apron to prevent the table from warping its shape. Being an entry level table it does not match the quality of steel or sturdiness of a professional table. But for the recreational player it's well made and is excellent value for money.
The table top is ⅝ inch in thickness and is made from high density MDF. After playing on this table for several days we found the bounce to be impressive and one of the best in this class. The STIGA Advantage also comes in a ¾ inch and 1 inch table top.
Other aspects we liked include the smoothness of the playing surface and lines. These help give a consistent bounce and provide a quality feel. We were impressed with the tournament grade clamp on net set, which would even surprise those in the market for a high-end table. The STIGA Advantage also features a single player playback position option.
Comparing the STIGA Advantage to the JOOLA indoor you will find more similarities than differences. Yet, the sturdiness of the frame score high and make the STIGA advantage our best entry level table tennis table.
JOOLA Inside Table Tennis Table

Cost: $ | Surface thickness: 15mm MDF | Frame: 1.5 inch Steel | Aprons: 1.5 inch resin apron | Design: Separate halves | Weight: 137 lbs | Colours: Blue | Playback: Yes
Pros
Overall good value for money
Well constructed undercarriage
Best in class net
Cons
Table top provides less bounce
Laminate table top prone to peeling
The STIGA Advantage's closest challenger is the JOOLA Inside, which shares similar popularity status among indoor tables. With similar characteristics its difficult to separate the two tables.
The JOOLA Inside comes 95% pre-assembled and only requires about 15 minutes to get it up and running. The rollaway table is constructed using 1.5" powder coated steel, together with a 1.5" apron and overall is well made and has a solid feel. When compared to the STIGA, while the steel is the same thickness it does have a slightly lighter weight.
Where you'll find the biggest difference is in the playing surface. The JOOLA Inside comes with a ⅝" thick table top made from medium density MDF board, making it lighter than the STIGA. This also impacts the bounce of the ball and subtle differences were observed where the JOOLA recorded less bounce. The top comes with a laminate coating which can be more prone to peeling. However, this wasn't something we observed during our testing.
Regardless, the table features some great options for a table in the category. Its easy to use, anti-tilting safety latch helps secure the table, while the 3 inch locking wheels stop the table from moving. You'll also find leg levelers included to help keep the table flush.
The net post set included is also the best in the category. It comes with a heavy duty clamp system and strong, high quality net material. Finally the table features a single player playback option when you can't find any worthy opponents.
Best Outdoor Ping Pong Tables
Cornilleau 250S Indoor/Outdoor Crossover Ping Pong Table

Price: $$ | Surface thickness: 5mm resin laminate | Frame: 1 1/2″ galvanized steel frame | Design: One piece construction | Weight: 161 lbs | Colours: Blue & Gray | Playback: Yes | Ball and Paddle Storage: Yes | Warranty: 10 years
Pros
Excellent bounce and performance
Quality construction and safety features
10 year warranty
Cons
Thin tabletop compared with others
Assembly is time consuming
Higher price
Our pick for the best outdoor table tennis table for your home is the Cornilleau 250S ping pong table. It's dubbed a crossover table – which means it is made for both indoor/outdoor environments.
Unlike the other outdoor tables, the Cornilleau uses a 5mm resin laminate tabletop. The laminate surface keeps it weatherproof and produces a consistent ball bounce. Superior in our eyes than its closest rival the Kettler Champ 5.0. A subtle addition is the soft matt finish of the tabletop. This also adds to weather protection but more importantly, reduces the glare from the sun.
The table has quality written all over it. Its frame is constructed with durable 1.5 inch galvanized steel, including resin covered steel legs. It features 6 inch double wheel casters with high-grade brakes. These allow for longer travel along rough surfaces and ensure the table stays put when you need it. Cornilleau stamp their quality marksmanship by providing an industry best 10 year warranty.
The table is easy to fold, even for the kids. To do this, players use a central release handle, found only on the Cornilleau tables. The table has 16 locking points between the playing and storage position, providing reassurance when setting up. The space required to store the 250S is also less than the Kettler models and it has room to pack away your paddles and balls.
Cornilleau 400M Indoor/Outdoor Crossover Ping Pong Table
Price: $$$ | Surface thickness: 6mm resin laminate | Frame: 1 ¾ inch Galvanized steel frame | Weight: 174 lbs | Colours: Blue and Gray | Ball & paddle storage: Yes | Playback: Yes | Warranty: 10 years
Pros
High quality table made to withstand strong weather conditions
Amazing tabletop surface
Packed with features
Cons
Priced in the higher bracket
Fixed net limits replacement options
Assembly is time consuming
If you know the name Cornilleau, then you know it's synonymous with quality. There's no exception for the 400M crossover, which is part of the popular Crossover range which also features the Cornilleau 500M Crossover. These tables are made to be used in both indoor and outdoor environments.
It's one of the finest outdoor tables that we would recommend for home use. Although it's only for folks that are really serious about outdoor ping pong or good quality tables.
The 400M is priced in the higher bracket of the other outdoor tables in our review but it's hard to fault. The ultradurable tabletop is 6mm thick and made from resin laminate, providing a dense playing surface. The table produces fantastic bounce, speed and spin, making it comparable to some of the better indoor tables.
You'll also benefit from Cornilleau's patented MATTOP finish and protective melamine coating, making the tabletop anti-glare and weather proof.
The frame is sturdy and made using 1 ¾ inch galvanized steel, combined with a 2 inch thick inframe to support the top. This combined with the huge 6" double-wheel casters provide a solid foundation that is difficult to move around. Better yet, Cornilleau provide an adjustable mechanism for the middle leg to ensure your playing surface is as level as possible.
The 400M has some class-leading safety features, including the impressive folding and locking mechanism. Using a central release handle, the table has 16 locking points to maximise safety to ensure the top doesn't collapse unexpectedly.
As previously mentioned, it's hard to pick any faults with the 400M. The tournament grade net system is weatherproof and first class, however because the table packs away by folding in the middle, the net remains fixed. This is convenient, although it limits your replacement options.
The other thing to expect with this table is its slightly higher price tag and a considerable amount of assembly time required to get it up and running.
Kettler Cabo Table Tennis Table

Price: $$$ | Surface thickness: 12mm – 18mm | Frame: Steel frame | Aprons: 1.125 inch steel tube | Weight: 138 lbs | Design: One piece construction | Colour: Blue | Playback: Yes | Warranty: 10 years
Pros
Excellent tabletop performance
Impressive safety features
Built tough and has 10 year warranty
Cons
Higher priced
Not much else
A new table recently released by Kettler is the Cabo, which replaces the popular Champ 3.0. The new model continues with Kettler's quality workmanship and certainly impresses.
Kettler are known for top quality table designs and the Cabo is their entry outdoor model. That said, this table is suited to ping pong enthusiasts or situations where a table is getting a lot of action.
The playing surface is a real selling point for the Cabo. It's weatherproof, UV resistant, scratch and fade resistant and includes an anti-glare feature. Not to mention, Kettler have included their True-Bounce technology to produce a consistent and true ball bounce.
Setting up is also easy. The table uses a one piece centrefold design for quick and convenient setup, transport and easy storage. This design allows the table to remain as flat as possible on uneven surfaces and also means you don't need to remove the net at all.
It's strong and sturdy enough to withstand intense play and strong weather conditions. It boasts a 1.6 inch (40mm) heavy steel legs and an additional 1.4 inch (36mm) steel profile to support the top.
You also get 5 inch swivelling double wheels for easy and comfortable movement. They have a rubber tread that makes transporting along rough, wet or long distances easier.
You'll have confidence in the table with Kettler's 10 year warranty on the table surface and 3 years for residential frame warranty.
We can't find many downfalls with this table. It is a little pricier than the entry level tables but we feel the extra pennies are definitely worth it.
JOOLA NOVA Pro Outdoor Ping Pong Table

Price: $ | Surface thickness: 6mm aluminum composite | Frame: 30mm rust resistant steel | Aprons: 2 inch | Design: Separate halves | Weight: 166 lbs | Colour: Blue | Ball and Paddle Storage: No | Playback: Yes
Pros
Great option for families
Decent quality 6 inch casters
Assembly time 10 mins
Cons
Ball bounce is lacking
Net post system is poor
Tabletop reflects sunlight glare
JOOLA are well known for producing some impressive ping pong tables and the NOVA is a great option if you're looking for an entry level outdoor table.
It's a no frills option that will get you up and playing outdoors in around 10 mins. The 6mm tabletop is made from aluminium plastic composite provides adequate bounce. While it lacks a little in spin generation, it's a solid option for amateur players or for family hit outs.
If you're playing in sunny weather, the playing surface does appear to have some sunlight reflection, which can be an annoying distraction.
The NOVA has separate table halves with the undercarriage made using powder coated rust resistant steel, with a thickness of 40mm (1.5"). The thickness is enough to maintain sturdiness in the outdoors. Included are four leg levelers which are a must for uneven outdoor surfaces.
The table comes with 4 x double 6 inch casters on each side to help move the table from storage to playing position. These casters are a great upgrade on the regular JOOLA NOVA and are much needed when moving the table across uneven ground.
You'll also get a waterproof net and post set. While these will endure some wind and rain, pay extra care when setting the net as it uses the unpredictable screw tightening mechanism.
STIGA XTR Outdoor Ping Pong Table

Price: $ | Surface thickness: 6mm aluminum composite surface | Frame: Galvanised steel, 40x40mm | Apron: 2 inch | Design: Separate Halves | Weight: 166 lbs | Colour: Blue | Playback: Yes | Ball and Paddle Storage: No | Warranty: 1 year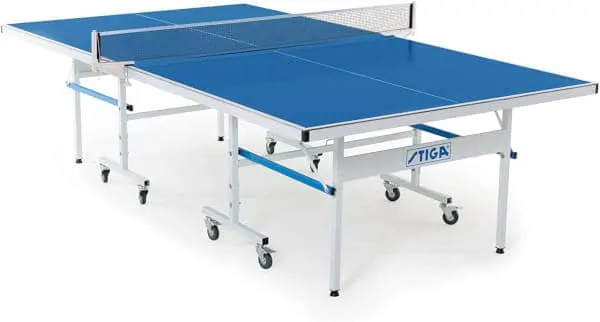 Pros
Value for money
Ultra compact storage
Easy to assemble
Cons
Underwhelming ball bounce
Lacking sturdiness
Sun glare is visible
The STIGA XTR is a solid selection for those looking for an entry-level outdoor table tennis table. It arrives 95% pre-assembled so you can get the table from box to play in 10 mins!
The STIGA XTR is weatherproof made with quality materials that will withstand wind, rain and sunshine. The tabletop uses aluminium materials and measures at 6mm thickness. While this is typical for mid range tables, it delivered an underwhelming ball bounce. The tabletop is also lined with a silky coating. This helps weather proof the table but it unfortunately reflects the sunlight. This can be quite irritating for players and can definitely impact gameplay.
The table comes together as separate table halves which has its pros and cons. It can be great for storage but not practical for outdoor use on an uneven surface. The playing position is achieved by fastening the net to both sides, making it difficult to line the sides up.
The undercarriage is made from galvanized steel using an exterior grade powder coating. Setup is convenient and easy with the self opening steel when setting up or folding the table. However, the sturdiness of the frame is lacking. We recommend storing the table undercover as strong weather conditions may cause unnecessary damage.
You won't find many safety features. The adjustable height levellers help even the table and playback mode is available. The STIGA XTR is also ultra-compact when storing.
It only comes with 3-inch wheel casters which are really intended for indoor use. We would not recommend transporting the table over rough surfaces or long distances.
If you need a little more check out the STIGA XTR-Pro for a great upgrade.
Ping Pong Table Buying Guide
When buying a ping pong table the main factors you want to consider are value for money and longevity. But there are also these criteria to take into consideration.
Indoor or Outdoor?
The majority of players classify table tennis as an indoor sport although outdoor play is becoming more and more popular.
The key area of concern for playing outdoors is – you guessed it – the weather! Ping pong balls are light and any slight hint of wind will make the game difficult to play. And if it rains, forgot about playing. Any wet patches on the table will ensure the ball doesn't bounce and will slip and slide everywhere. Not fun at all.
Despite the weather concerns, having an outdoor table tennis table does have some benefits. On most occasions you will have more room to play than an often tight fitting room.
The biggest difference you'll notice with indoor and outdoor tables is the construction material. Indoor table tops are made from wood, whereas outdoor tables are usually built with a combination of metal and wood and use a protective coating. The frames for outdoor tables are sturdier, which also reflects in a higher price.
You can find some tables that are suitable for both indoor and outdoor use.
Space
Once you've worked out where you intend to play, the next most important factor to consider is whether you have enough space for a table tennis table. Tables do come in a range of sizes. The standard table size is 9 ft (2.74 m) long, 5 ft (1.525 m) wide, and 2.5 ft (76 cm) high.
With this in mind, our guide on how much space you should allow is a further 6.5 ft (2 m) from each end of the table and about 3 ft (around 1 m) at each side of the table.
So if you choose to play indoors, you need a room with dimensions of at least 15.5 ft (6.74 m) long and 8 ft (2.5 m) wide. It's often forgotten but also ensure you allow about 7ft (2 metres) of height with no lower hanging lights or other objects.
Some other factors that you should be mindful of include:
Obstacles: if you're playing in the garage with a ton of other items in the room, it will be annoying trying to find the ball. Try using bed sheets or other items to cover these up.
Flooring: aggressive ping pong play requires a lot of feet movement. So having enough grip on the floor surface is important. If you find your surface slippery, there are floor mats which you can use.
Storage: If you're sharing space with other equipment (such as your car in the garage), be sure you have enough space to store the table when not in use. In this instance the rollaway tables are quite effective and offer a compact storage solution.
What if I don't have enough space?
You've measured the room and determined that a standard size table won't fit. Thankfully there are other options for you to consider:
Buy a smaller table: ping pong tables do come in a variety of sizes. You might consider a mid-sized or mini table tennis table if your space is too small for a standard size table.
Buy a conversion top: you might have a dining table or another large table, presumably within a large room. Conversion tops allow you to transfer a regular table into a ping pong table. They are usually made from thin wood to give a realistic bounce.
Go outside: maybe an outdoor table tennis table could work for you?
Use a robot: a robot is useful if you can only squeeze in a standard table but only have enough space for you to manoeuvre.
Undercarriage & storage
The undercarriage is as important as the table surface. It forms the foundation of the table and can come in a range of styles summarised below.
Rollaway/Foldaway
The rollaway is a common undercarriage style and is very easy to store & assemble. The wheels, table and legs are all integrated and can be folded into a compact storage space. They're perfect and convenient if you need to quickly pack up and use the space. A standard size table folds up to approximately 6 feet in height and usually supports single player use.
Solid
As the name suggests these tables are built to stay! Solid tables do not usually have standard legs, rather a boxed undercarriage. Constructed from solid wood, with metal or plastic supports, solid tables are often found in arcades or competitions. Unless you have a dedicated space, these tables are generally not very well suited for home.
Separate halves
A style that has been gaining popularity of late are tables with two sides completely separate. The separate halves are joined together using the net and posts at the centre. These tables are commonly constructed with a galvanized steel frame, making them solid yet easily moveable.
This table type offers some advantages:
They're lighter and easier for one person to move – especially if you have a fair distance to go or your going up and down stairs.
Is easy to fold and require less storage space.
Single player mode is also possible with these table types with the playback position. So besides taking a little longer to setup, their versatility would suit most players.
Construction quality and table thickness
Like paddles, the ITTF also provide a stamp of approval for tables. Anyone can buy a table tennis table approved by the ITTF table but they're expensive and better suited for tournaments and clubs. They're made to last longer with a thicker playing surface and strong undercarriage.
When it comes to table construction, the thickness of the table almost always has a direct correlation with the quality (and price) of the table. The basic rule to remember is that the thicker the table, the higher the quality. Table thickness ranges from about 12 mm to more than 25 mm (ITTF approved tables are usually 22 mm or more). The main difference players will notice with a thicker table is a bigger bounce. Typically, 15-18 mm tables are reasonable for recreational players.
The ITTF does not specify any particular rules on the material of the playing surface. Though the majority of tables are made from a wood composite material, you'll also find them made of plastic, metal, fibreglass or even concrete! Although the rules state that the surface must have a uniform bounce of 9 inches when a ball is dropped from a height of 12 inches (30 cms).
Safety and other accessories
Your table may include a range of safety options and accessories. Some of the popular safety features include corner protectors and a safety latch to keep the table in place while in storage. Corner protectors are often made from rubber and fixed to each corner of the table to help reduce any nasty pain when a player comes in contact with them.
A good table will be equiped with leg levelers, which offer the ability to level and adjust the height of the legs. Keep an eye out for a table that features this, as it will come in handy on most surfaces.
A decent set of caster wheels for easy and convenient movement can also make a difference. Make sure they come with a solid locking mechanism to prevent your table from moving around when you don't need it.
You may also find some tables that include options such as ball or paddle storage. These provide functional convenience however should only be considered as secondary nice to have options.
Price
Last but quite important is the price of the table. Before buying a table you should do your research, understand your playing level, how you will intend to play and set an affordable budget.
If you're practising to become a pro, you'll want to replicate an environment like your ping pong club. However, the majority of players are looking for a good quality product at a reasonable price.
The budget for a table can range from around $100 to anywhere upwards of $3000. Like most things, you get what you pay for. Our reviews cover a range of tables that would suit different budget and playing experience.
Frequently Asked Questions
What is the best ping pong table to buy?
It all depends on your needs! If you're looking for a table for your home, planning on playing regularly and don't want to break the bank, our recommendation is the Killerspin MyT4 Pocket Table Tennis Table.
But do your research. We've done some of the hard work for you by reviewing some of the best indoor ping pong tables and outdoor tables available.
If you're after a weatherproof table, we recommend the Cornilleau 250S Indoor Outdoor Crossover as one the best outdoor tables on the market.
How much is a good ping pong table?
The cost of ping pong tables can range anywhere from $200 for an entry level table and can get as high as $3000 for a competition ready table.
A lot depends on the build materials used and the thickness of the tabletop. Weighing up these factors, a mid range table starting at around $500 would be suitable for most home environments. Read our review of the some of the best table tennis tables above.
Which is better Stiga or JOOLA?
Both Stiga and JOOLA produce excellent quality ping pong materials. We have recommended both brands in our list of best ping pong tables so we can't say which is better. Some players favour one over the other but it is down to personal preference.
Both companies have European roots. JOOLA was started in 1952 in Germany and Stiga in 1944 in Sweden. They are now heavily involved in the North American market and are among the popular brands in the sport today.
There are a number of great brands producing quality ping pong products today including Butterfly, Killerspin, and Double Happiness. If you get the opportunity, review their products to understand what suits you.
What should I look for when buying a table tennis table?
If you want to start playing ping pong there are a number of considerations when buying a table tennis table, however the key factors include:
The amount of space you have
The intended playing area – indoor table tennis table vs outdoor table tennis table
Your level of playing experience – competitive play or occasional enthusiast
The undercarriage and whether it can fold away
The construction quality materials
Price
Read our buying guide as we explore these areas in more detail.
What can I use to clean my ping pong table?
For regular cleaning of dust and light stains, you can use a cloth (lint free or cotton) with some warm water. Gently rub the table all over and pat down to try with a towel.
For heavier stain removal, it is recommended to use a vinegar solution, made up of equal parts vinegar and water. Similarly, rub the solution with a damp cloth over the table.
What color is a ping pong table?
Table tennis tables coming can come in many colours, but the most common are dark green or blue. These colours are typically used for competition tables. You might also find them in black, red or any other custom colour.
How much space does a ping pong table need?
The standard table size has the following dimensions: 9 ft (2.74 m) long, 5 ft (1.525 m) wide, and 2.5 ft (76 cm) high.
We recommend allowing a further 6.5 ft (2 m) from each end of the table and about 3 ft (around 1 m) at each side of the table.
Indoor ping pong tables should be placed in a room with dimensions of 15.5 ft (6.74 m) long and 8 ft (2.5 m) wide.
If this doesn't suit your home, you can checkout our guides on mid sized table tennis tables or outdoor table tennis tables.