Looking for a fun activity to spend time with your kids or friends? Why not consider an outdoor table tennis table? It's an enjoyable game that is well suited to a variety of skill levels and can get players moving for hours!
Table tennis has long been a popular indoor games room activity. Although with house sizes getting smaller and space becoming a premium, having an indoor table is not viable for many people. This, together with the improvement in the quality of outdoor tables, has created a growing interest in outdoor table tennis.
But before going ahead and making a purchase, what do you need to know to determine a bad from a good table? We aim to solve that problem for you in this article. We'll cover what factors to consider and provide our best outdoor table tennis table recommendations.
We hope you find our recommendations useful. Just so you know we may collect a small commission from links on this page.
Short on time? Here are our table recommendations:
Best Outdoor Ping Pong Table Recommendations
Cornilleau 250S Crossover Indoor/Outdoor table
Pros
Excellent bounce and performance
Quality construction and safety features
10 year warranty
Available in both Blue and Grey
Cons
Thin tabletop
No corner padding protection
Higher price
Tabletop surface might show ball and fingerprint marks
Our review:
Our pick for the best outdoor ping pong table for your home is the Cornilleau 250S ping pong table. It's dubbed a crossover table – which means it's made for the outdoors but it matches the bounce of a good indoor table.
Unlike the other outdoor tables, the Cornilleau uses a 5mm resin laminate tabletop. The laminate surface keeps it weatherproof and produces a consistent ball bounce. Superior in our eyes than its closest rival the Kettler Champ 5.0. A subtle addition is the soft matt finish of the tabletop. This also adds to weather protection but more importantly, reduces the glare from the sun.
The table has quality written all over it. Its frame is constructed with durable 1.5 inch galvanized steel, including resin covered steel legs. It features 6 inch double wheel casters with high-grade brakes. These allow for longer travel along rough surfaces and ensure the table stays put when you need it. Cornilleau stamp their quality marksmanship by providing an industry best 10 year warranty.
Folding the table is easy, even for the kids. To do this, players use a central release handle, found only on the Cornilleau tables. The table has 16 locking points between playing and storage positions – which provide reassurance when setting up or packing away. The storage space required for the 250S is also less than the Kettler models and it has room to store your paddles and balls.
Who it's for?
A serious table for those looking for overall performance and durability.
Cornilleau 500M Crossover Indoor/Outdoor Table
Pros
Best in class ball bounce with 7mm surface
High end durability and safety
Superior construction quality
Available in both Blue and Grey
Our review:
Its hard to find a better recreational outdoor table tennis table than the Cornilleau 500M. Its one of the most popular models for schools, parks, and council facilities, but it comes at a price.
It shares the same philosophy of quality that is found in the Cornilleau 250S, but they take up it a notch for the 500M. The tabletop uses the same resin laminate material. However, you'll find this comes with a 7mm thick surface, which provides an even more authentic ball bounce. It's the best we've seen from any outdoor table that we have played. It even improves the anti glare feature by using a different finish called MATTOP. This does an excellent job in reducing any unwanted light reflection.
The 500M is a beast of a table that weighs 170 lbs so it's recommended to maneuver into position with two people. It's constructed using heavy duty 2 ¼ inch galvanized steel with an arched leg shape that helps provide sturdiness and style. The steel frame reinforced legs and leg levellers set the 500M apart from its closest competitors. These features come in handy to steady the table when playing on a rough surface.
Safety has been at the top of Cornilleau's considerations when building this table. It uses the same locking system used in the 250S model. But the 500M comes with corner protection pads to help reduce those nasty injuries when kids run into the table!
If you need to move this table around, its prepared for a long journey with its huge (almost 8 inch) wheels. These wheels are durable and are made with outdoor travel in mind. And if anything fails, it comes with an industry leading 10 year warranty.
Who it's for?
Serious recreational players who don't mind spending a little more for a long-lasting table.
Kettler Champ 3.0 Outdoor Table Tennis Table
Pros
Thick tabletop providing good bounce
Safer than entry level tables
5 year warranty
Cons
Longer assembly time needed
Reflects sunlight which can impact play
Our review:
If you're looking for something a little more durable than the STIGA or JOOLA, then the german made Kettler Champ 3.0 outdoor table might be for you.
The first thing you'll notice is that there's not a lot pre-assembled, so you'll need about 90-120 mins to put it together.
Like the JOOLA and STIGA, the Kettler Champ 3.0 uses aluminum material for its tabletop. The difference being that this tabletop is ⅞ inch thick giving it a much more reliable bounce. Kettler have also included a proprietary honeycomb ALU-TEC(™) layer at the base of the tabletop. This helps keep the shape of the table by controlling expansion and contraction caused by the weather. The tabletop is finally coated with a water based paint making it UV, scratch and fade resistant.
Weighing 130 lbs, the table is well made and has a durable frame. It comes with 2.5 inch elliptical steel legs which are powder coated and galvanized and a 1.5 inch alluminum apron. The apron design does a great job at holding the tabletop together, so you shouldn't experience any warping. The quality is backed up with Kettler providing a 5 year warranty for any defects.
The table comes with better safety features than the entry level models. Folding the table is really smooth. During testing we didn't experience any difficulty or abrasiveness. The dual locking system is also quite solid. It locks the table in both playing and storage positions so you don't need to worry about the table moving about.
The table has some practical features that make a players life more convenient. It comes with 5.5 inch wheels that have a rubberized surface – helping move the table along rough surfaces. And the weatherproof net has durable, resin coated posts that keep the net extended during storage.
Who it's for?
The Kettler Champ is a fantastic intermediate table that is suitable for outdoor players looking for a step up from the entry level range.
JOOLA Outdoor Aluminum Table Tennis Table
Pros
Value for money
Easy to assemble
Cons
Difficult to transport on uneven surfaces
Low durability and 1 year warranty
Unnatural ball bounce
Our review:
A close competitor to the STIGA XTR is the JOOLA Outdoor table tennis table. It's a well-rounded, entry-level table that we recommend for a first table or the part-time recreational player.
Assembly is not as quick as the STIGA but equally impressive, requiring only around 15-20 mins. Like the JOOLA indoor tables, the Outdoor uses a separate halve table style, requiring only 8 bolts to get up and running. This can be convenient although it creates difficulty aligning the two halves. The table style is not well suited for uneven ground and might also have problems playing on grass.
The materials used provide reasonable weatherproofing. It has a 6mm thick aluminum plastic composite tabletop and a 1.2 inch rust-resistant powder coated steel frame. While this isn't the most durable it will withstand rain and sun and should be fine for most recreational play. This has impact on the performance of the table and during our play we noticed an unnatural ball bounce. The net is also weatherproof but it uses the classic screw clamp design. These nets are prone to damage and are rather annoying to fasten and remove.
The JOOLA outdoor includes anti-tilting locks which are a nice safety feature also found on their indoor tables. They automatically locks the table in place when folded, making it both convenient and safe to pack away. We also found the leg levellers on this table to be much easier to use than others at this price point.
Unfortunately like the STIGA, the JOOLA outdoor only comes with 3 inch wheels. This makes it suitable for moving only on indoor or flat outdoor surfaces. With a 1-year warranty, this table is not recommended for places with a varying climate or high humidity.
Who it's for?
Families or beginners who are looking for an occasional outdoor game.
STIGA XTR Outdoor Table Tennis Table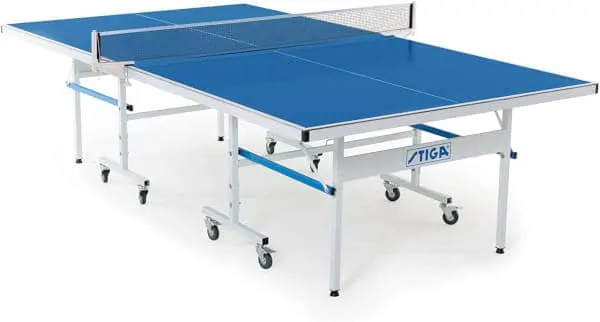 Pros
Value for money
Storage space
Easy assembly
Cons
Ball bounce
Low durability and 1 year warranty
Sun glare is visible
Our review:
The STIGA XTR is weatherproof made with materials that will withstand wind, rain and sunshine. The tabletop uses aluminium materials and measures at 6mm thickness. While this is typical for mid range tables, it delivered an underwhelming ball bounce. The tabletop is also lined with a silky coating. This helps weatherproof the table but it unfortunately reflects the sunlight. This can be quite irritating for players and can definitely impact gameplay.
The table comes together as separate halves which has its pros and cons. It can be great for storage but not practical for outdoor use on an uneven surface. The playing position is achieved by fastening the net to both sides, making it difficult to line the sides up.
The STIGA XTR is a solid selection for those looking for an entry-level outdoor table tennis table. It arrives 95% pre-assembled so you can get the table from box to play in 10 mins! Amazing!
The undercarriage is made from galvanized steel using an exterior grade powder coating. Setup is convenient and easy with the legs automatically deploying when opening or folding the table. However, the sturdiness of the frame is lacking. We recommend storing the table undercover as a gust of wind may knock it over.
You won't find many safety features. The adjustable height levellers help even the table and playback mode is available. The STIGA XTR is also ultra-compact when storing.
It only comes with 3-inch wheel casters which are really intended for indoor use. We would not recommend transporting the table over rough surfaces or long distances.
Who it's for?
Players looking to buy their first outdoor table for occasional play and exposure to the weather. But with only a 1-year warranty, don't expect it to last very long.
Outdoor Table Tennis Table Buying Guide
Indoor vs Outdoor
The first decision to make is whether you really need an outdoor table. If you have no space inside for a table or you intend on playing the majority of games outside, then you're likely to need an outdoor table.
But if space isn't an issue and you only intend to play outdoors on occasion, we would seriously recommend looking at an indoor table. Indoor tables have a better playing surface that will provide you with a more natural bounce than outdoor tables. Indoor table play is also not dependant on the weather so you're likely to get many more playing hours. Even the lightest shower or gentle wind will impact your ability to play outdoors.
If you're considering an indoor table, read our guide on the best indoor table tennis tables.
Space
A no-brainer, but it's important to ensure you have enough space outdoors to play. This is usually more of an issue indoors but can often be forgotten about. The standard table size is 9 ft (2.74 m) long, 5 ft (1.525 m) wide, and 2.5 ft (76 cm) high.
With this in mind, our guide on how much space you should allow is a further 6.5 ft (2 m) from each end of the table and about 3 ft (around 1 m) at each side of the table.

Weatherproof Tables
For small amounts of time, you can use your indoor table outdoors if the conditions are right. But due to the construction materials used in indoor tables, they are prone to warping if left exposed to direct sunlight or moisture.
Outdoor tables are constructed differently to ensure they stay weatherproof. They're commonly made using galvanized steel but the most durable tables are made entirely from concrete.
Concrete tables can come with a polished surface helping naturalise the ball bounce. They can get quite close to resembling the bounce and speed of indoor tables. Lasting up to 50 years, these tables are normally found at schools or parks but not well suited to have at home.
The most popular recreational tabletops will use an aluminium, melamine or plywood resin. These can also range in thickness from between 3.5mm to 10mm. In our experience, the best tables are made using a melamine resin. We found these tables to provide the best combination of durability and gameplay.
Finally, net systems vary with outdoor tables. Nets using weather resistant polyester material are commonly found on most recreational tables. Whereas concrete tables usually come with solid steel frame nets.
Safety and General Play
Unlike indoor play, outdoor table tennis is often played on uneven pavement or grass. Therefore safety and ensuring the best playing conditions become more important.
The design of the table can have a big impact on both. Like many indoor tables, the separate-half design can be found on some outdoor tables. It requires the two sides of the table to be joined by the net. Because of this, it's difficult to set a flat playing surface and you're more likely than not to have an uneven table.
Another table design that we recommend, has the table sides connected together by the undercarriage. This leads to a more safer and stable table and is more forgiving with uneven surfaces.
The type of wheels and brakes are also important considerations for outdoor tables. The best tables will feature large, all-terrain wheels, made for moving across rough surfaces like dirt and grass. They'll also include strong brakes on each wheel to ensure table stability.
Other practical safety features include leg levellers and corner padding protectors. They help adjust the height of the table when encountering any uneven surfaces and protect any kids which may collide with the table.
Added Extras
As with some indoor tables, outdoor tables may include nice-to-have features that can make a big difference. You can find paddle and ball storage options on the better tables, holding up to 4 paddles and over a dozen balls.
Ball dispensers might also be included at each end of the table along with scoring systems. These small comforts bring a new level of convenience to players.
Another subtle, yet significant feature that will have a huge improvement for gameplay is the coating applied to a table surface. Surface coating works to reduce sunlight glare, improve table bounce and help protect the table from the elements. A great coating can make a world of difference to whether you win or lose!
Warranty
The range of warranty periods offered for tables can vary. This is usually a reflection of the quality of the table, so you should pay particular attention to it. Often spending a little more upfront can save you a significant amount later on.
Warranty periods can start for as little as 1 year but are usually found in the 2-5 year periods. These are traditionally given to aluminium constructed tabletop tables. The best recreational tables offer up to 10 years warranty, whereas some concrete tables come with 50-year guarantees!
Final thoughts
Deciding whether you need an outdoor table can be tough, let alone knowing which one to buy. While the popularity of outdoor tables is growing, many are still lacking in performance when compared with indoor tables. So we would always advise to do your research and understand if you really need to go with the outdoor option.
That in mind, good quality outdoor table tennis tables do exist and we've reviewed some best choices here. Since outdoor tables are usually more expensive, it can be easy to gravitate towards lower price models. But this might not always play out as the best strategy. You might find yourself spending more for two cheaper tables over time, than buying something that costs a little more but lasts much longer.
So be sure you know how the table will be used. Buyers should keep in mind how often they will play, how much exposure to the weather it might have and decide on a budget.
If you want value for your dollar, but still want a table that performs, we recommend considering the Cornilleau 250S Outdoor table. It's within the higher mid range level but is weatherproof, plays extremely well and is covered for upto 10 years warranty. This special table will provide many hours of entertainment and will not disappoint!