Have you ever noticed that ping pong table dimensions come in all shapes and sizes? Why is that and which size should you consider? We take a look deeper into the various sizes on offer and what might suit you.
Standard ping pong table size
According to the International Table Tennis Federation (ITTF), the official ping pong table dimensions are:
"The upper surface of the table, known as the playing surface, shall be rectangular, 2.74m long and 1.525m wide, and shall lie in a horizontal plane 76cm above the floor."
So in other words, the table dimensions of a standard ping pong table are:
9 feet long (2.74m)
5 feet wide (1.525m)
2 feet and 6 inches high (76cm)
There are also rules around the net that sits on the table. The net needs to be:
6 feet long (1.83m)
6 inches high (15.25cm); and
Have an overhang of 6 inches (15.25cm)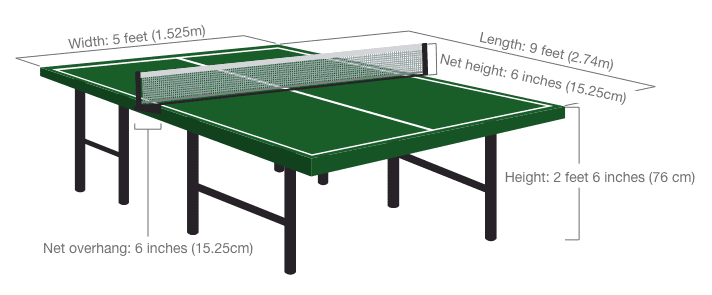 These are the table sizes for official tables which are used in competitions around the world. Apart from table size, a few other factors need to be adhered to for competition standard tables.
First, the playing surface is also required to be dark colours and use a matt texture. Some popular colours are dark green and blue. The table must also include a white line, 2cm wide, along each of the table's edges. For doubles play, a 3mm wide line down the centre of the table is added which divides the table into four equal parts.
Second, while the playing surface can be made of any material, there is a requirement for the table to produce a uniform bounce of 23cm when a standard ball is dropped on to it. The height the ball is dropped from is 30cm.
These rules are in play to make sure there is a level of consistency across the various manufacturers of tables and ensure players are not constantly needing to adjust their game. You can view more rules on the ITTF handbook.
If you think a standard table size is likely to suit your space, view our list of best ping pong tables or best outdoor ping pong tables that we've reviewed to help you choose the right table for you.
Midsized ping pong tables
For households that might not have enough room to fit a standard sized table – don't fear! Midsized ping pong tables could the answer for you.
As you may have guessed, a lack of space is the key driver behind many players choosing to buy a midsized table. But they're also a strong consideration for families with younger children who may find a standard sized table difficult to maneuver.
Midsized ping pong tables come in a variety of sizes. They can measure as small as 54 inches (137.2 cm) in length and 30 inches (76.2 cm) in width. But like the Butterfly Junior, they can reach anywhere upto 81 inches (205.7 cm) in length and 45 inches (114.3 cm) in width.
Players who choose to go with a midsize table should be aware that it's very likely to have an impact on their game, especially if they are downsizing from a standard table. The playing surface of mid-sized tables can be quite different to their larger counterparts and therefore, players may notice a difference in ball responsiveness and bounce.
The size itself also takes some time to get the hang of. You might find yourself overhitting your shots for a period of time until you adjust to the shorter length.
You can read more about some of the best mid-sized ping pong tables in our review.
Mini ping pong tables
The third table size category is classified as mini ping pong tables. Boasting the smallest tables of the all 3 categories, mini ping pong tables are a useful option to introduce small children to the game of table tennis.
Mini tables can be as small as 23.6 inches (60 cm) in length and 11.8 inches (30 cm) in width. They come equipped with smaller paddles and balls to suit the table but do not have any regulations on the type of materials that need to be used.
While mini ping pong tables can be great fun (especially for the kids), don't expect to be able to develop many skills required for play on a larger table. They also can often lead to a poor standard of game and rally's that last no more than a few shots.
Other regulations
Playing area
Setting up your table space not only requires enough room to fit your table, but it also needs to have enough playing area for both players to enjoy the game.
The ITTF have specific rules for international tournaments to abide by. They require the table area to be rectangular in shape and not less than 14m long, 7m wide and 5m high.
You might be thinking, this is quite a lot of room! But not to worry. For a standard sized table that is stationed indoors, you'll need a room which is at least 15.5 ft (6.74 m) long and 8 ft (2.5 m) wide.
You should also ensure that you have about 7ft (2 metres) of height with no lower hanging lights or other objects.
ITTF Approval
The ITTF has a strict set of quality and performance requirements, to ensure the highest quality standards and a level of consistency among the various table manufacturers. Complying to this set of requirements means that a piece of equipment is ITTF approved.
Equipment that is ITTF Approved can be legally used in formal table tennis competitions and tournaments. On the flipside, tables that are not ITTF approved cannot be legally used in competitions or tournaments.
So gaining approval is a must do step for any serious manufacturer.
To gain ITTF approval, manufacturers are required to arrange for the ITTF to test and review their tables. The set of requirements that they need to meet are detailed in the ITTF 'technical leaflet'. Once approved, a table will then be listed on the ITTF's approved equipment list.
To continue to have their equipment ITTF approved, manufacturers will need to ensure their tables always meet the requirements as well as pay any relevant fees.