Learning the game of ping pong can be daunting. While there are thousands of clubs out there, it can be intimidating going up against other players that are stronger than you.
Like most skills nowadays, it can be as effective to learn to play online. The internet is a fantastic resource for players to become better and there are hundreds of resources to teach you to play.
We've looked at a range of online training resources and provided our review of the best available.
PingSkills
PingSkills is one of the most comprehensive online table tennis training resources. PingSkills is the brainchild of Alois Rosario, a former national player and Australian Olympic coach. And Jeff Plumb, who represented his country at the Sydney Olympics.
You'll find over 600 FREE videos available on their YouTube channel. They offer a full suite of content covering skills, technique, positioning, fitness, interviews and lots more.
A good place to start is with their playlists. They guide players from beginners, moving through intermediate all the way to an advanced level.
What I like about their videos is that they take the time to explain things clearly and show many examples and slow mo's. It's also worth noting that most of their videos range from 2-10 minutes, so quite easy to consume.
For more tailored content, PingSkills do offer a paid premium membership via their website. For A$30 per month, or A$700 forever, you will get access to a comprehensive training plan. This includes tactics for playing against various playing styles, access to both trainers and personal advice from Alois with video reviews.
Tom Lodziak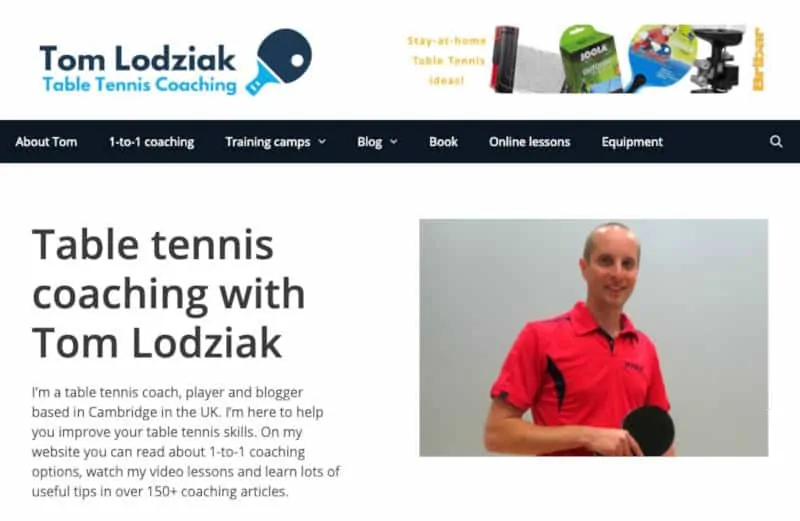 Tom is a full time, qualified (UKCC level 2) table tennis coach who has a lot of online training material to help players of all abilities.
While he does a lot of face to face coaching, he has a wealth of online training videos, articles and courses available through his website and via YouTube.
You'll find over 90 FREE videos on his YouTube channel. His videos focus more on stroke play and getting your technique right. Tom's videos are informative and well produced. Most of his videos are under 10 minutes so these are also easy for players to digest.
He has also some lighter content which shows him practicing table tennis skills while doing chores around the house.
On top of the free content, Tom also offers paid services, including an online beginner course and 1 to 1 coaching. The beginner course sells for UK£10 and covers some useful content for getting started. This includes how to hold a paddle, stance and movement, popular strokes, serving and spin.
Table Tennis University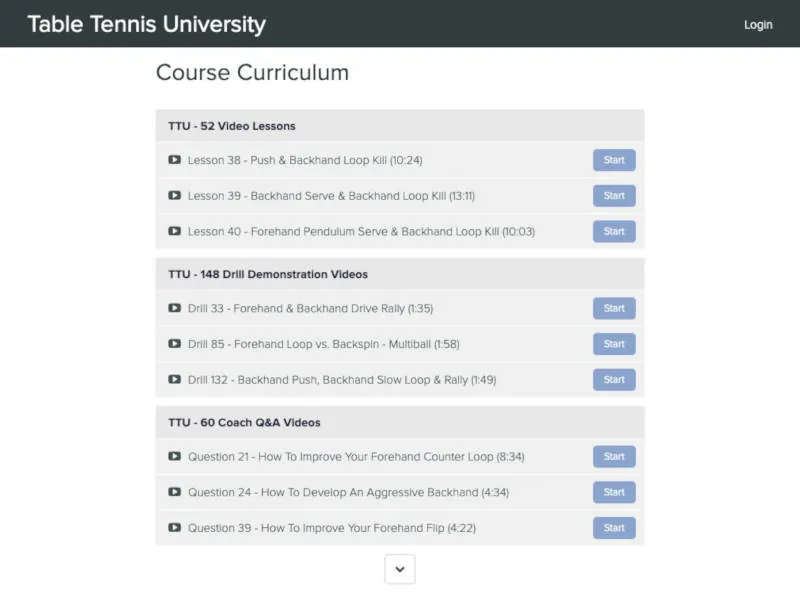 Hosted by Coach Tao Li, Table Tennis university is another quality resource for online table tennis training.
A former junior Chinese champion, Toa Li is now based in Canada. As a coach he has won gold with the Women's team in the Colombia Winter Games 2002 and silver with the Mens team in the same year.
Coach Li reveals his enormous knowledge of table tennis through a series of free and paid courses. This includes a free basics mastery course which takes students through the fundamental skills. Li has a good range of approximately 30 videos on his YouTube channel which will give you a flavour of his teaching style.
Most of the free videos are under 10 mins and focus on technique and mastering strokes. We found Coach Li's communication and demonstration to be obscure and at times hard to comprehend. Although he does offer some slow mo's and gets right into the action from the outset. The video production is also not as high quality as some of the others.
For those willing to pay, there are courses for particular strokes including serving, the forehand smash, forehand loop and backhand loop. Coach Li also offers courses on footwork conditioning, building power and training drills. His full training program covers 52 lessons, 148 drills and 60 answers to common questions. Paid courses start from $47 and go upto $297 for the full suite.
Eli Baraty Academy of Table Tennis (eBaTT)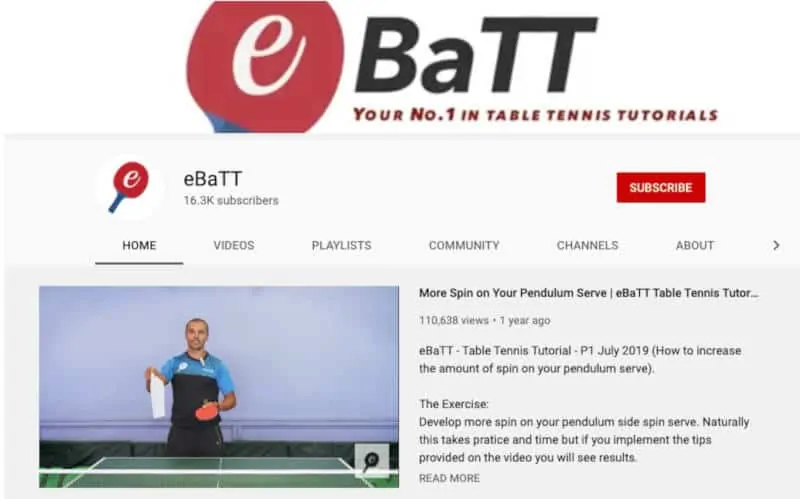 eBaTT was founded by level 1 ITTF table tennis coach and mentor Eli Baraty. Eli and his team have over 24 years of coaching experience. From beginners to professional level, including national champions across England and Europe.
eBaTT is a well established and extensive online education hub for all types of table tennis players. There are over 100 videos to watch free on the eBaTT YouTube channel. The videos cover stroke play, foot work, home training guides and important match play tips.
Eli is often accompanied by one of his team and they tend to have a little fun, while still taking players through some useful learning. You'll find the videos on eBaTT are high resolution, clearly presented and easy to consume. The majority of the videos under 10 mins in length.
Eli does package up some of these videos into a training program called the eBaTT formula. The program combines some written resources, videos and other books that Eli and his team recommend to improve your game. They even have a section on nutrition, physical condition and mindset training.
eBaTT also offers some paid coaching services. These are mostly face to face and include 1 on 1 coaching, small group coaching, school coaching, consultancy, training camps and corporate events.
ttEDGE.com
ttEDGE.com offers the most unique experience from the rest. The service is run by William Henzell, a 12 time Australian Singles Champion and three-time Olympian.
Starting with their YouTube channel, there are only a small number of videos (approximately 30) available. But the majority of these are about William's previous experiences in the 2012 London Olympics.
Most of their training videos are housed on the main website. Partnered alongside former Australian coach Brett Clarke, they cover almost every aspect of the game. From the basics to more advanced techniques. The videos are very informative, easy to follow and a good length to follow online.
Users will find up to 20 free videos available on the site. But a membership is required to access the 200+ premium videos, which costs A$19.95 a month.
The most fascinating offering from ttEDGE.com is a free phone application. The app is designed to help you train your brain to identify the direction or type of stroke your opponent is playing. This is determined by the technique of the opponent and the direction and trajectory of the ball. The app is available for download on the Google Play store or Apple ITunes store.
Table Tennis Daily Academy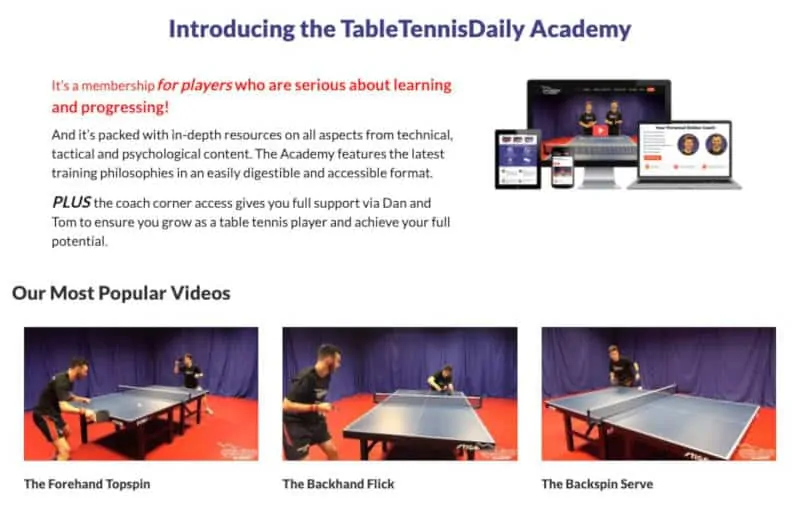 Looking for high quality content and you don't mind paying for it? Then the guys at Table Tennis Daily Academy provide arguably the best online resource for learning table tennis.
The guys behind the project are Dan and Tom. Dan is the creator of the largest online table tennis community table tennis daily. Tom is a former professional player who has coached all over Europe.
The site includes a range of coaching videos on technique, tactics, serving, returning services, psychology and training drills. It's packed with in-depth resources on the technical, tactical and psychological elements of the game.
What's best, is that new material is added each month. Students will find the content well thought through and delivered in a clearly presented and high quality format.
Paid members can contact the coaches directly and submit videos to have their personal game reviewed.
The only drawback with the service is the cost. It will set you back £9.99 monthly, or £99.99 yearly. A free trial is available which provides access to four videos.
Timo Boll Webcoach
One of the most famous table tennis players of all time, Timo Boll, has developed Timo Boll Webcoach to provide a paid learning service.
Timo has teamed up with Zhu Xiaoyong and Andreas Ball to provide content across a range of topics to improve a players game. They've split their video packages out to focus on particular strokes, for example they offer a backhand package for €11,90. But they also provide an all inclusive package for €99.
Like the guys from the Table Tennis daily academy, students have the option of uploading videos to have their game analysed. These are a lot more expensive, with a video analysis session with Timo costing €249.
Another useful option available is a skype session with one of the coaches. Players can discuss aspects of the game and ask for tips about specific questions they may have.
The service targeted to players who are taking the game seriously and prepared to invest a lot in their development. Unfortunately, a major disadvantage is that the videos and majority of the content is in German.