Are you getting started in table tennis or looking for an upgrade of an existing cheap paddle?
Then you've landed on the right page!
We took a wide range of beginner paddles, gave them a test run and came up with a shortlist of the best paddles on the market under $50.
Don't forget to checkout our ping pong paddle buying guide before making your purchase decision.
We hope you find our recommendations useful. Just so you know we may collect a small commission from links on this page.
A summary of our recommended paddles under $50.
Best Ping Pong Paddles for Beginners
Our Pick
Killerspin JET200
All Rounder
Our Rating: 8.0
Speed: 60 | Spin: 70 | Control: 85 | Weight: 6.4 oz | Blade: 5 layers of durable wood | Design: 3 colours | Handle: Shake hand design
Provides good control
Consistently in top 5 Amazon best sellers
Great value
Small handle with some build quality issues
New colour handle dye can smudge
What we like:
The Killerspin JET200 ping pong paddle has been consistently rated as one of the best ping pong paddles for beginners over the last 5 years. It has recently had a design update, making it available in 3 colours. But the performance hasn't faltered.
The JET200 provides a balance of performance with an entry level price tag. What we like about the Killerspin JET200 is that it plays extremely well when compared with cheaper Walmart paddles.
It provides the player with enough control to keep themselves in the rally against spin and power players. The coloured rubber provides more cushion for defence, while the black rubber is stiffer, making it a handy attacking weapon.
The paddle also produces a little spin, which is great for beginners who are still working on technique and mastering the various strokes.
Who's it for:
Office players that are wanting a shot at the title.
Idoraz Table Tennis Paddle
All Rounder
Our Rating: 8.0
Speed: 99 | Spin: 93 | Control: 90 | Weight: 6.4 oz | Blade: Ply wood | Rubbers: ITTF approved | Sponge: 2mm | Handle: Shake hand design | Case: Included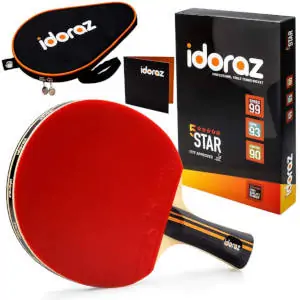 Excellent all round paddle with superior control
Great for practicing both spin and speed game
Good value for the price
Shorter handle – may not suit large hand players
Construction material quality appears lower than others
What we like:
Another all rounder recommendation comes from a unique company. Idoraz started as a small family business and only sell the one paddle, which is fast becoming a hit among table tennis amateurs.
When you first hold the Idoraz paddle you immediately notice its light weight and comfortable to grip. The blade is made from pure wood, possibly using ply, and does feel on the softer side which helps the defensive player.
The Idoraz paddle is equipped with thick (inverted) ITTF approved rubbers. They have a medium level of tackiness which give extra-control over backspin strokes. Playing both attacking loops and defensive chops felt quite natural with this paddle.
You can develop your spin game with this paddle as it generates a decent amount of spin. But the balance and control is what makes this paddle stand out. The 2mm sponge coating helps provide great control against an opponent with both speed and spin.
We shouldn't forget about the strong speed that the Idoraz generates though. Both backhand and forehand drives bounced consistently and cleanly off the sweet spot – but hey maybe that had something to do with the player! 🙂
The paddle may not be well suited for players with larger hands. We found the handle slightly shorter than others and larger hand players may not find it that comfortable.
Who it's for:
Players who want to develop with a balanced approach to the game.
Sportout Sriver-He
All rounder
Our Rating: 7.5
Speed: 90 | Spin: 90 | Control: 80 | Weight: 7.4 oz | Blade: 9-ply wood and 8-ply carbon | Rubber: ITTF approved | Handle: Shake hand design | Sponge: 2mm | Case: Included
Provides good control
Well balanced paddle (weight vs stability)
Non slip, sweat absorbing handle
Small handle with some build quality issues
New colour handle dye can smudge
What we like:
Only introduced in 2019, the Sportout Sriver-He paddle has impressed in a short space of time! It uses a unique hybrid wood blade (9 ply ayous wood + 8 ply carbon) which provides a solid base to cater for both power attacking and defending.
The Sriver-He rubber is also impressive with a 2mm sponge, providing decent bounce and great driving capability. When taking it for a practice, we were impressed with the amount of power it can generate for flat hitting. But it's also the best in the category for playing attacking loop topspin shots.
The paddle itself feels comfortable in the hand. It's well designed with an ergonomic flared handle and has a little more weight compared with a few others that helps provide more stability.
Customer feedback around the build quality – particularly the rubbers peeling – prevented the Sportout from becoming our number one pick. Although they appear to have a good customer service team so definitely worth a look.
Who it's for:
Players that want a fine balance between aggression and control.
STIGA Titan
All Rounder
Our Rating: 7.0
Speed: 80 | Spin: 77 | Control: 82 | Weight: 5.6 oz | Blade: 5 ply extra light balsa wood | Rubbers: ITTF approved | Sponge: 2mm | Handle: Shake hand design
Provides good control
Great stroke play for beginner learning
Light paddle
Doesn't generate much power
Unlikely to last more than 12 months with regular use
What we like:
The STIGA Titan is an excellent choice for your first ping pong paddle. It has great all-round attributes which will help beginners learn how to master spin and control.
The STIGA Titan's biggest strength is the degree of control is provides. It's really easy to return spin and power strokes and guide them with precision. This is really important for someone learning to play, as it helps keep them in the rally longer.
The paddle can be useful in practicing spin strokes, especially back and side spin shots. You can get some good practice playing backspin chops, as it tends to feel smooth and generate enough spin. Unfortunately it's not that effective for top spin or serving with a lot of spin.
Being one the lightest paddles on the market – weighing in at only 5.6 ounces – it helps players stay playing a lot longer or experiencing any wrist injuries due to the weight.
With its ITTF approved rubbers, the paddle is approved for tournament use. So, you'll easily feel the difference compared with the paddles you'll find at your local game room!
Who it's for:
Up-and-coming champs that want to build their foundations with good control and defence.
Palio Expert 3
Defensive
Our Rating: 7.0
Speed: 60 | Spin: 90 | Control: 100 | Weight: 9.1 oz | Rubbers: ITTF approved | Sponge: 2mm | Handle: Shake hand design | Case: Included
Generates lots of spin
Great control
Improved version of the popular Palio series
Build quality has been criticised
Heavy paddle
What we like:
For those that want to learn to play off the back foot consider the Palio Expert 3. This is version 3 of the popular Palio Expert series and was released in 2019.
The Expert 3 comes with a few improvements including wider edge tape, to help keep the rubbers secure, and a redesigned handle to provide more control. It also comes with an improved case which is a nice touch and saves you buying one.
What you'll immediately notice with this paddle is the rubbers on both sides are very tacky. This is what triggers a ball to spin and the Palio 3 can generate a lot of spin with little effort. It's useful for practising backspin chops, and defensive push and block strokes.
The Palio Expert 3 is a defensive paddle so you will not generate much speed. Some of the more attacking shots can be played but require more effort. Although the paddle does provide great control for beginners.
Similar to other beginner paddles, the Palio has also received some criticism for the construction quality. At this price point, it is something that you will need to factor in. But with what we have seen, it wouldn't stop us from buying the Palio 3.
Who it's for:
New and improving players looking to generate maximum spin.
Frequently Asked Questions
What is the best ping pong paddle for beginners?
While there are many options of ping paddles available for beginners, we currently recommend the Killerspin JET200 as a great entry level paddle. It provides a great balance of control and comfort, which will help you return more balls and learn various stroke techniques.
There are other great paddles on offer which you can read our reviews on.
What kind of ping pong paddle should i buy?
There are a few basics to consider when buying a ping pong paddle. You need to ensure that it feels comfortable, it suits your playing style and is within your budget. If you're new to ping pong, you can read our reviews of some of the best ping pong paddles for beginners.
Is there a different between the red and black side of the paddle?
The ITTF rules state that the rubbers on a players paddle should be different in colour. The main reason for this is to help the opponent identify which side of the paddle connects with the ball. This helps them judge the velocity and bounce to be able to return the ball.
You will find many premade paddles and professional players use different rubber types for each side of the paddle. For example, one rubber may be more defensive, while the other will help with an attacking style of play.
What ping pong paddles do professionals use?
All professional table tennis players would customise their own paddles to their liking. This means they would purchase the blade and rubbers separately to allow for maximum customisation.
Some premade paddles, such as the STIGA Raptor, are well made and suited for professional players. You can checkout our reviews of premade paddles for advanced players.
How long does a ping pong paddle rubber last?
This depends on how much you use it and the quality of the rubber. On average with daily use, you're likely going to need to replace your rubber between 6 and 12 months. However most premade paddles are made to last longer than that.
There are some common signs that your rubber needs replacing:
If you have tacky/spin rubbers and they start to lose their tackiness
If you start noticing your rubber pealing off from the blade.