| Speed | Spin | Control | Weight (oz) |
| --- | --- | --- | --- |
| 80 | 77 | 82 | 5.6 |
*Paddle attributes specified by manufacturer
We hope you find our recommendations useful. Just so you know we may collect a small commission from links on this page.  
So you've started playing ping pong and all you have to play with is a set of hard wood paddles with a slither of rubber that's half pealed away. It's probably time you looked for an upgrade!
But with so many out in the market, which do you choose?
We've spent a few years playing and testing a number of different paddles and searched the internet for what others were saying. We found the STIGA Titan to be a popular choice for beginners so we thought we'd take it for a test.
If you're not familiar with STIGA, they're one of the biggest brands in table tennis originating from Sweden.
Let's take a closer look at what to consider when buying a paddle and how the STIGA Titan stacks up!
Things to consider before buying a table tennis paddle
When choosing the right table tennis paddle for you, there are some basic criteria that we would recommend weighing up.
First, and most importantly, your playing ability needs to be considered. It sounds obvious, but you shouldn't be buying expensive paddles if you're just starting out. An all-round paddle may be more appropriate in this situation. Players with an advanced playing ability, however would be more familiar with the game and the type of paddle that suits them.
Premade or custom paddle? For amateur players, we recommend sticking with premade paddles. However if you're a professional player, we recommend customising your paddle to select the right blade and rubbers to your liking.
Playing style is also a key consideration. As you progress through playing ability you will adopt a playing style that could be more attacking or defensive. You'll find paddles that suit either end of the spectrum and anywhere in between.
Another important factor is your preferred paddle grip. Of the two types of grip, the handshake grip is the most popular. This is where the player holds the paddle in the palm of their hand. The other, more difficult to master, is the penhold grip. Here the player holds the paddle between their thumb and index finger. The type of grip affects the design of the paddle so you should have an understanding of what you prefer before buying.
Lastly, paddle ratings will have an impact on the way you play and should be evaluated. There are three categories to consider: Speed, Spin and control. For players that prefer a spin game, they generally sacrifice control or speed. Ratings can also closely linked with your playing style and can take some time to understand how they differ and impact your game.
STIGA Titan detailed review
The STIGA Titan is a great entry level paddle that will start you on your ping pong journey without breaking the bank.
As we'll go into more detail below, the paddle provides great all-round attributes and can help beginners start to craft their spin strokes and adapt control in their game.
And although it has its limitations, this paddle will feel like a breath of fresh air compared with low-end paddles that you'll find at your local game room!
Features & Benefits
The Paddle – 7/10
The STIGA Titan paddle is the entry level paddle for STIGA's Tournament level paddles. These paddles are still aimed at the amateur market but for players who are taking the game more seriously.
At first glance, the overall construction of the paddle comes across solid. The blade is made from 5 ply extra light balsa wood and with the Titan, STIGA start to introduce some of their advanced technology such as the WRB system.
While this is a fancy marketing term, the WRB is designed to help balance the weight of the paddle at all times, helping players get comfortable with the paddle and perfect strokes. It also increases ball sensitivity with the recess that has been positioned in the handle. We feel this helps provide a good level of control to the paddle, which again helps players' masterstrokes.
STIGA also fit the Titan with ITTF approved inverted rubbers, so effectively it can be used for tournament play. The rubbers have a low level of tackiness so have limited spin play. But they sit on top of a 2mm sponge, which again helps with control and favours the attacking player,
After several weeks of play with the STIGA Titan, there was a noticeable difference in both paddle quality and strokeplay between the more advanced paddles, such as the STIGA Pro Carbon. While we didn't notice any significant defects during play it did feel that the paddle was less secure and we wouldn't expect it to last past a year.
Many online reviews have expressed issues with the paddle being damaged easily, so it's important to note that extra care needs to be taken to extend its life.
Comfort – 8/10
The TITAN is one of the lightest paddles that we've reviewed, weighing only 5.6 ounces. While its easier to wield, the light weight may not be favourable for every player. Attacking players are generally more familiar with heavier paddles.
Compared with some other paddles:
Idoraz – 6.4 ounces
STIGA Pro Carbon – 7.2 ounces
During our testing we found the paddle to be quite comfortable to grip for both forehand and backhand strokes. It has a classic feel to it, nothing superior, but it will help beginner players to find their rhythm and develop both defensive and attacking strokes.
Speed – 6/10
Perhaps one of the biggest let downs for us was the speed rating provided by STIGA for the Titan compared with its actual performance. STIGA give it a rating of 8.0 so we were obviously looking forward to giving it a test run.
From the outset, the speed that we could generate from the Titan was limited. The ball response off the paddle is rather low which contributes to slower speeds. While attempting to play attacking loops was effective, the pace was much slower than what we found on the STIGA Pro Carbon and Idoraz paddles. This opens you up to counter attacks and allows good players an opportunity to get back in the game.
When you put it into context, yes the Titan has some speed limitations but it still performs much better than your average paddle. So although we don't agree with the speed rating, we do feel the paddle still has some good qualities.
Spin – 7/10
As we've mentioned earlier, the rubber's on the Titan are not that tacky, so we weren't expecting to generate much spin.
STIGA give the spin a rating of 7.7, which doesn't mean much to us. But what this tells us is that the spin rating is the lowest of the 3 ratings, meaning that STIGA feel that spin is the Titan's weak point.
During play, we actually found the paddle to be quite enjoyable to play with and even found that playing backspin chops was reasonable.
However, it wasn't effective for topspin shots or spin serves. So while you can get some practice with this paddle don't expect to become an expert looper.
But again, when comparing the TItan with your low-end paddles, it still gives you something to work with.
Control – 8/10
We will honestly rate the STIGA Titan's best feature is its controlling ability it provides players. When comparing it to cheap, low-end paddles or something in a similar price range like the Thunderline 6 star, the Titan outperforms them by long shot.
The 2mm sponge and softer rubber combine to provide a greater feel of the ball as it hits the paddle. This helps you to direct the ball in your desired direction, with both attacking and defensive strokes.
We feel STIGA have produced a terrific paddle for beginners as it allows them to improve their return accuracy, which is fundamental in developing more advanced ping pong skills.
What else could you consider?
Idoraz table tennis paddle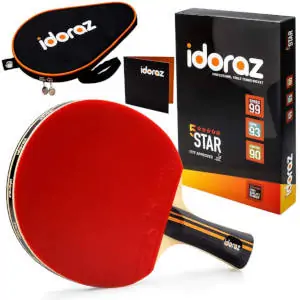 Another consideration if you're looking for an all-round paddle is the Idoraz.
This is a lightweight paddle (weighing only 6.4 ounces) and comes with the manufacturer's score of speed: 99; spin: 93; and control: 90.
For an intermediate level paddle, it generates some decent speed and the tacky rubbers give the opportunity to produce some reasonable spin.
But balance and control are what makes this paddle stand out. It comes with a 2mm sponge, which we found worked a treat to hold a defensive game against an opponent with both speed and spin. The superior control allowed us to dictate the tempo of the game and position the ball with accuracy around the table.
The build quality of this paddle is just a little better than the Titan. The handle is shorter than your average paddle though so we wouldn't recommend it for large hand players.
If you're looking for a paddle that provides that next step in speed and spin, then it should definitely be considered.
STIGA Pro Carbon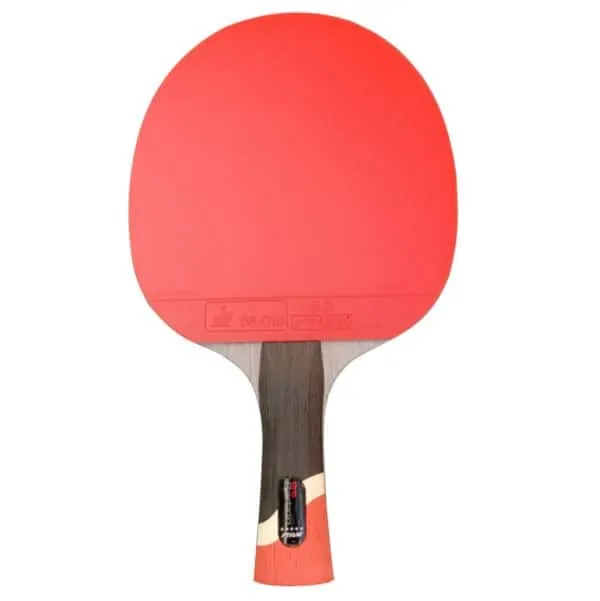 Another paddle you could consider from the same manufacturer is the STIGA Pro Carbon. It's STIGA's top end paddle for amateurs providing competition ready perfromance and its priced reasonably well.
This is an attacking players paddle which can generate some serious speed.
Compared with the Titan, the Pro Carbon is a big step but it's not out of reach for beginners or intermediate players. It provides great bounce and players will be able to learn better spin play with its superior spin and control characteristics.
We classify the STIGA as a quality intermediate players paddle for a couple of reasons:
It doesn't take too much time to get familiar with for beginners.
It still performs to high standards that players of higher abilities would be happy with.
> Read our detailed review of the STIGA Pro Carbon
> Check Price on Amazon
Want more options? Check out our best ping pong paddle reviews or best ping pong paddles under $50 for beginners.
Our verdict of the STIGA Titan
It didn't take us long to get a feel for the STIGA Titans pro's and con's, but we certainly found it to be an enjoyable paddle to play with for a beginners paddle.
At its price point, it's a great option for players who are currently using a cheap Walmart paddle or similar that are looking to take a step up in quality.
Players can often make the mistake of buying a more expensive paddle designed for an advanced player. They tend to struggle with the control and speed of the paddle and overshoot a lot of their shots. Then finally give up playing altogether.
So if your still learning, but want a better paddle this is a great choice. While it might not have an immediate impact on your game, we feel that the Titan will help you improve at a much faster rate than sticking with your cheaper paddle.