| Speed | Spin | Control | Weight (oz) |
| --- | --- | --- | --- |
| 99 | 100 | 80 | 7.2 |
*Paddle attributes specified by manufacturer
We hope you find our recommendation useful. Just so you know we may collect a small commission from links on this page.  
Are you a competent ping pong player that's looking to give their game a little more edge? Well it's important you have the right paddle to help you improve. 
But with so many out in the market, which do you choose?
We've spent a number of years playing and testing many different paddles and searched the internet for what others were saying. We found the STIGA Pro Carbon as one of the most popular choices for amateur players so we thought we'd take it for a test.
If you're not familiar with STIGA, they're one of the biggest brands in table tennis originating from Sweden.
Let's take a closer look at what to consider when buying a paddle and how the STIGA Pro Carbon stacks up!
Things to consider before buying a table tennis paddle
When choosing the right table tennis paddle for you, there are some basic criteria that we would recommend weighing up.
First, and most importantly, your playing ability needs to be considered. It sounds obvious, but you shouldn't be buying expensive paddles if you're just starting out. An all-round paddle may be more appropriate in this situation. Players with an advanced playing ability, however would be more familiar with the game and the type of paddle that suits them.
Premade or custom paddle? For amateur players, we recommend sticking with premade paddles. However if you're a professional player, we recommend customising your paddle to select the right blade and rubbers to your liking.
Playing style is also a key consideration. As you progress through playing ability you will adopt a playing style that could be more attacking or defensive. You'll find paddles that suit either end of the spectrum and anywhere in between.
Another important factor is your preferred paddle grip. Of the two types of grip, the handshake grip is the most popular. This is where the player holds the paddle in the palm of their hand. The other, more difficult to master, is the penhold grip. Here the player holds the paddle between their thumb and index finger. The type of grip affects the design of the paddle so you should have an understanding of what you prefer before buying.
Lastly, paddle ratings will have an impact on the way you play and should be evaluated. There are three categories to consider: Speed, Spin and control. For players that prefer a spin game, they generally sacrifice control or speed. Ratings can also closely linked with your playing style and can take some time to understand how they differ and impact your game.
STIGA Pro Carbon detailed review
If your someone that has been using cheap Walmart ping pong paddles up until now, but are finally taking your first serious look at buying a decent paddle, then the STIGA Pro Carbon would be a good choice.
With the Pro Carbon, STIGA have produced a paddle that is great for bridging the gap between beginner and advanced playing ability. At its mid range price point, its one of the only paddles that includes ITTF approved rubbers and carbon technology.
It's been created with a more offensive game in mind but provides some comfort for defensive players too. It's not as difficult to handle and limited in shot making as some of the offensive paddles. Here we take a look at why.
Features & Benefits
The Blade – 9/10
STIGA have put a lot of effort into making this paddle as high performance as possible. They've made the Pro Carbon compete with some more advanced paddles, while still making it affordable and suitable for players learning their craft.
The quality of the blade has definitely helped achieve this. It uses 7-ply balsa wood which helps keep the vibrations and the weight to a minimum.
The STIGA Pro Carbon is one of the few paddles in its class to use carbon technology in its blade. It applies two layers of carbon fiber material on either side of the blade. This adds stability to the paddle by helping keep its shape and improves the ball response on impact, which gives each shot an extra zip off. Combined, these features provide more speed and power.
Compared with the Killerspin JET 800, the STIGA Pro Carbon is slightly smaller and also considerably lighter.
The Rubbers – 7/10
The rubber used on the STIGA Pro Carbon is the Stiga S5. While this is an ITTF approved rubber, its one of the key reasons the paddle not used by competitive players.
It's well suited to players with beginner to intermediate playing abilities. The reason for this is that the rubbers are quite soft, making them easier to handle. But this also means that the maximum amount of spin and speed you can achieve is limited.
The rubber initially does have some tackiness to it, which would imply some decent spin can be generated. However, after only a few weeks of daily play, we found the rubber started to lose its tackiness quite quickly. The end result was still a very good paddle, but like other a number of players have pointed out, the level of decrease in spin is noticeable.
Luckily we were not deterred and we found our speed game to still be consistent. We rate the Stiga S5 rubber to be quite good for flat hitting, smashing and mid-distance looping shots.
One last point is that the rubbers have a 2mm thick sponge supporting them. These are quite thick when compared to other standard paddles, and may take some practice and time to get adjusted.
The handle – 9/10
The STIGA Pro Carbon is equipped with a concave (flared) shaped handle. When you first hold the paddle, you immediately notice that it's quite comfortable to hold.
The handle is long enough and shaped with rounded edges, which increase the overall comfort level. For a 6 foot male with average size hands, the STIGA was a great fit. During our playing time over a few weeks, we also really liked the minimal vibrations that could be felt in the handle.
There are some areas to point out which may not suit some players. First, the Pro Carbon is heavier than the standard paddle. However, you'll notice that most of the weight sits in the blade and not the handle.
Second, the handle edges are quite thick, so those with smaller hands may not feel as comfortable.
Lastly, the plastic logos embedded into the handle fell out of our paddle. However, this was merely an aesthetic issue rather than impacting performance.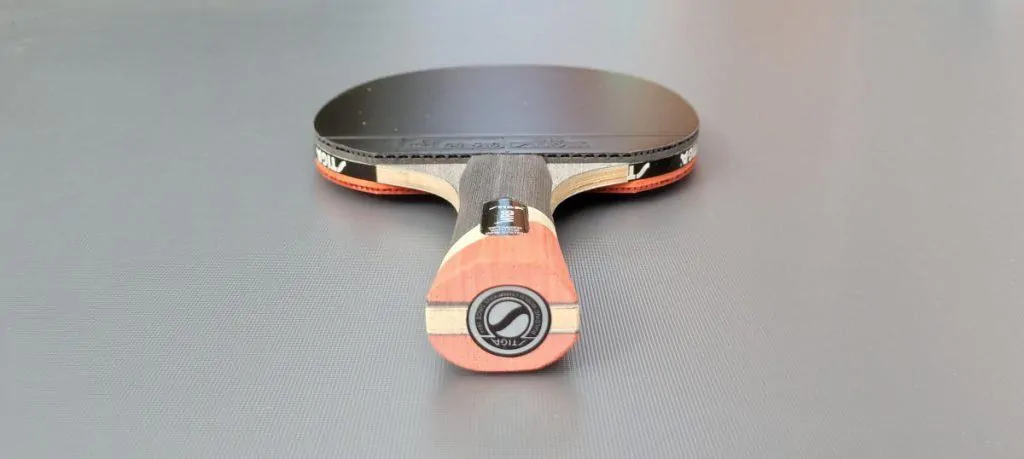 Weight – 8/10
The blade of the STIGA Pro Carbon actually carries most of the weight. Although as an offensive paddle, its weight is about right.
Weighing 7.2 ounces, the paddle is a little heavier than most premade bats but we feel it's lightweight for the speed it can produce.
Compared with other paddles:
Killerspin JET800 – 9.4 ounces
Butterfly 702 – 6 ounces
So in summary, the weight shouldn't impact your game.
Speed – 9/10
The speed the STIGA Pro Carbon can generate is impressive for the price and target player in mind. Players that are upgrading from any premade paddle under $30 will notice a significant difference – and have a great time at that!
During our testing of the Pro Carbon we were easily able to generate the same amount of speed as we were on the Killerspin JET 800 and other higher priced paddles. The speed of this paddle will impress players that favour flat hitting smashes and drives.
To round out, the speed is very good for an intermediate paddle and will excite beginners and intermediate players. More advanced players may want to look for something with a little more bite and zippiness.
Spin – 7/10
The largest let down of the STIGA Pro Carbon is the limited spin it generates. As previously stated, the rubbers will feel tacky when they are new. But as this wears off, so does the spin potential.
This is not to say that complete spinning ability will be lost. You will still be able to generate good levels of mechanical spin (where the shots have more power rather than just skimming the ball). But you'll find little reward for slower spin shots like flicks and backspin.
Like other Stiga premade paddles, the Pro Carbon is good for people who like flat hitting and if spin is a big part of your game, you might need to look elsewhere.
Control – 9/10
According to the manufacturer STIGA, control has the lowest rating for the Pro Carbon. This does not support our findings – we actually feel the paddle deserves much more credit for the control it provides.
It might be a little tricky to handle initially, especially for players upgrading from cheaper bats, but we were able to get to grips with the paddle after a few hours. And from there on, it was a joy to play with.
The non-tacky rubber and blade combine well to help defend a players spin. Not only does it make good flat hitting shots, it can also produce a decent lob or chop comfortably against an opponent using more spin. It does produce a bit more bounce off the rubber so defending against smashes can be more challenging.
Looking at feedback from other players across the internet, this paddle has various reviews on the control and it really depends on the playing experience and your ability. However, we feel it does a great job for the beginners and intermediates alike.
What else could you consider?
Killerspin JET 800
If the STIGA Pro Carbon doesn't sound like its for you, there are a few alternatives to consier. The Killerspin JET 800 is a popular premade paddle made for the advanced player.
As an attacking player, you will love the power it can generate and it will provide you with new ways of adding spin into your game. But its one of the heavier paddles that we've reviewed, weighing 9.4 ounces.
It may present some challenges for your game initially, such as determining how much force to apply and learning how to return faced paced strokes. But it will certainly inject a lot of fun into your game.
While it's priced higher than the STIGA, the JET800 is one of the highest quality premade paddles that we've reviewed and should be a consideration for the serious table tennis player.
> Read our detailed review on the Killerspin JET800
> Check Price on Amazon
Idoraz table tennis paddle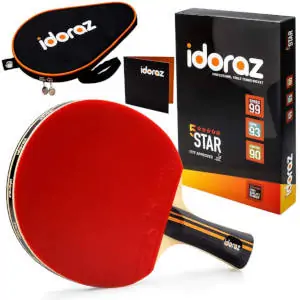 Another consideration if you're looking for more of an all-round paddle is the Idoraz table tennis paddle. The company that make the paddle are a small family business and only sell the one paddle, which is fast becoming a hit among table tennis amateurs.
This is a lightweight paddle (weighing only 6.4 ounces) and comes with the manufacturer's score of speed: 99; spin: 93; and control: 90.
For an intermediate level paddle, it generates some decent speed and the rubbers have a level of tackiness to give some spin.
But the balance and control are what makes this paddle stand out. Similar to the STIGA Pro Carbon it comes with a 2mm sponge, which we found worked a treat to hold a defensive game against an opponent with both speed and spin. The superior control allowed us to dictate the tempo of the game and position the ball with accuracy around the table.
The build quality of this paddle doesn't have the same premium feel to it as the Pro Carbon and the handle is a little shorter. So we wouldn't recommend it for large hand players.
But considering it's priced lower than the STIGA it should definitely be considered for players that are stepping up from the cheap <$30 paddle that want to develop an all-round game.
Want more options? Check out our best ping pong paddle reviews or best ping pong paddles for beginners.
Our verdict
So there you have it, we hope our review of the STIGA Pro Carbon helps you make a decision whether it's the right paddle for you.
You cannot fault its performance at its price point which is lower than some premium attacking paddles like the Killerspin.
It's an attacking player's paddle that generates some terrific speed and provided us with wonderful control and enjoyment. The downsides are the lack of spin and the rubbers as they quickly wear. The good news is that the rubbers can be replaced so you might want to upgrade them to suit your style.
We classify the STIGA as a quality intermediate players paddle for a couple of reasons:
It doesn't take too much time to get familiar with for beginners.
It still performs to high standards that players of higher abilities would be happy with.