| Speed | Spin | Control | Weight (oz) |
| --- | --- | --- | --- |
| 95 | 90 | 80 | 9.4 |
*Paddle attributes specified by manufacturer
We hope you find our recommendation useful. Just so you know we may collect a small commission from links on this page.  
So you might be getting tired of your current ping pong paddle and looking for something that's more aggressive? With so many out in the market, which one do you choose?
We scoured the paddles available and found the Killerspin JET800 has generated a large number of favourable reviews. So we thought we'd take it for a test.
If you're not familiar with Killerspin, they're a Chicago based company that pride themselves on serving the table tennis player.
Let's check out the Killerspin JET800 and decide for ourselves whether this paddle is right for you.
Things to consider before buying a table tennis paddle
When choosing the right table tennis paddle for you, there are some basic criteria that we would recommend weighing up.
First, and most importantly, your playing ability needs to be considered. It sounds obvious, but you shouldn't be buying expensive paddles if you're just starting out. An all-round paddle may be more appropriate in this situation. Players with an advanced playing ability, however would be more familiar with the game and the type of paddle that suits them.
Premade or custom paddle? For amateur players, we recommend sticking with premade paddles. However if you're a professional player, we recommend customising your paddle to select the right blade and rubbers to your liking.
Playing style is also a key consideration. As you progress through playing ability you will adopt a playing style that could be more attacking or defensive. You'll find paddles that suit either end of the spectrum and anywhere in between.
Another important factor is your preferred paddle grip. Of the two types of grip, the handshake grip is the most popular. This is where the player holds the paddle in the palm of their hand. The other, more difficult to master, is the penhold grip. Here the player holds the paddle between their thumb and index finger. The type of grip affects the design of the paddle so you should have an understanding of what you prefer before buying.
Lastly, paddle ratings will have an impact on the way you play and should be evaluated. There are three categories to consider: Speed, Spin and control. For players that prefer a spin game, they generally sacrifice control or speed. Ratings can also closely linked with your playing style and can take some time to understand how they differ and impact your game.
Killerspin JET800 detailed review
With the JET 800, Killerspin have produced a premium-quality paddle with the serious, attacking-style player in mind.
From the moment you take it out of the box, you'll notice its premium feel. It sits at the premium end of Killerspin's JET series and like the others, is well constructed with high-quality material.
We recommend the paddle for players with an advanced playing ability who like to take the game to their opponent. Those who prefer a defensive game better look elsewhere!
Features & Benefits
The Blade – 9/10
The Killerspin JET800 blade consists of a remarkable 7 layers – 5 layers of premium wood between 2 layers of carbon fibre. When comparing this blade to that on other standard paddles, you'll immediately notice that it's much thicker.
The thicker blade is the result of the addition of the dual carbon layers. This allows the blade to better absorb the impact of the ball while at the same time it generates additional power for your return shot. The paddle also provides a larger sweet spot to help with defending and absorbing hard hitting shots, although this does take some time to master.
We feel the quality of the blade is of a high standard compared with other paddles in the category. This is down to a combination of the materials used, weight and overall responsiveness. It's also worth noting that the blade is large – larger than the Stiga Pro Carbon – which definitely helps with returns and defending an opponent's smash.
The outer blade is protected by tape that wraps around the side of the paddle. While Killerspin claim this tape will eliminate the possibility of peeling, the tape on our paddle was coming undone after only a month.
The Rubbers – 8/10
We found the rubbers' responsiveness and quality to be consistent with other paddles in the Killerspin JET series. The rubbers used on the JET 800 are the Nitrix-4Z inverted ITTF approved rubber.
These rubbers have a high level of tackiness when compared with other lower grade paddles. If you're upgrading you'll definitely notice the difference. Whereas players coming from a professional paddle will feel this is in the mid-range.
This does help generate a considerable amount of spin as well as speed. We noticed a balanced amount of spin and speed could be generated from the serve, which can help deceive your opponent on the trajectory of the ball.
While serving and attacking shots were fun to play, we found defending shots harder to control. The rubbers definitely take some time to get comfortable with.
The handle – 8/10
The flared handle of the JET800 is designed to provide superior grip for most players. The paddle is designed so that you have room to move adjust your grip up or down on the handle to find your sweet spot.
We found the flared handle to be quite comfortable to hold and provided a high level of responsiveness for the impact of the ball. For those aggressive players, the flared end will help the paddle from slipping out.
Compared with other paddles, the handle on the Killerspin JET 800 is slightly shorter. Players with extra big hands may find it a little crammed.
Weight – 7/10
Weighing in at 9.4 ounces, the paddle is on the heavier side and is one of the heaviest paddles that we've tested.
Compared with other paddles:
STIGA Pro Carbon – 7.2 ounces
Butterfly 702 – 6 ounces
While you might notice the difference initially, players normally get accustomed to the weight quickly.
Heavier paddles are more favoured to attacking players as they help generate more speed and spin. But ultimately its personal preference and we recommend going with what feels comfortable.
Speed – 9/10
The Killerspin JET 800 is designed for speed and it certainly doesn't disappoint. If you're upgrading from a cheaper paddle, the speed and power it generates will take a little getting used to.
We found out quickly that little force was required to produce a large amount of power. The bounce from the impact of the ball is also a little jarring at first – so be prepared to practice and make some mistakes early on.
After performing a bounce test, it was amazing to see how much higher the bounce from the Killerspin was compared with the STIGA Pro Carbon. The Killerspin generated about an inch more bounce!
Once you become familiar with the paddle it becomes a lot of fun and it opens up a new world of power strokes. If you like your flat hitting power strokes or prefer aggressive loops, then you can take your game to a new level with this paddle.
Spin – 8/10
While the Nitrx-4Z rubbers have a tacky feel to them, we found the level of spin produced to be in the mid-range, especially for defending shots. Again, if you're upgrading from a cheaper paddle the level of spin you will notice will be quite considerable.
As an attacking paddle, the spin generated on serving and top spin loops was quite good and worked well when there was more pace on the ball.
When compared to some competitors, we found the Killerspin to generate more spin on the attack than the STIGA Pro Carbon and the Butterfly 702. So overall, you'll be able to play a decent spin game and still carve out some tricky shots for your opponents to play.
Control – 6/10
We marked the paddle down for its control for a couple of reasons. Firstly, as we've mentioned, players will find this paddle difficult to come to grips with it on first use.
We found it difficult to judge the amount of force to apply to make the perfect shot. So don't be disheartened if you find it difficult to keep the ball in play at first. The more you practice the better you'll get!
While this may become more familiar, returning your opponents smash or fast-paced strokes may continue to be a challenge. We put this down to the larger than normal bounce of the ball after impact.
What else could you consider?
STIGA Pro Carbon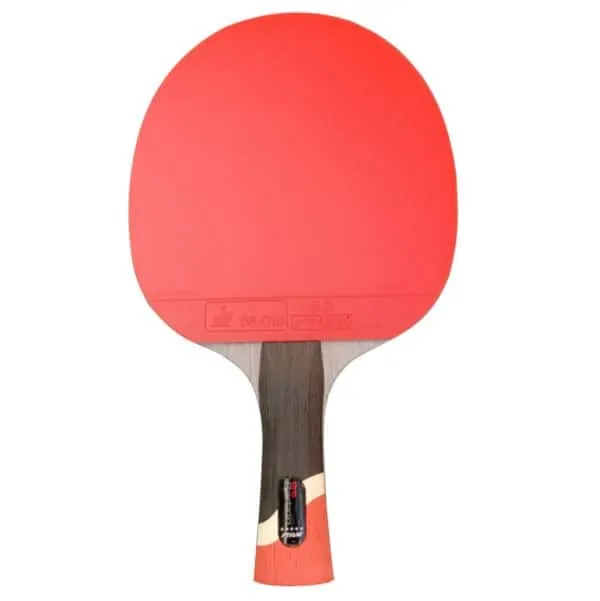 Another paddle you could consider is the STIGA Pro Carbon. It performs quite well and is priced lower than both the Killerspin and Butterfly.
Similarly to the Killerspin this is an attacking players paddle. It can generate good speed and is much lighter to handle.
Although you won't have the same amount of bounce or speed as you do on the Killerspin, there's little else that you will compromise. The spin and control characteristics are about the same.
We classify the STIGA as a quality intermediate players paddle for a couple of reasons:
It doesn't take too much time to get familiar with for beginners.
It still performs to high standards that players of higher abilities would be happy with.
> Read our review on the STIGA Pro Carbon
> Check Price on Amazon
Butterfly 702

Alternatively, the Butterfly 702 could be the paddle for you if you're looking for a more balanced game.
The Butterfly is beautifully constructed using high-quality playing materials. It's an amazing premade paddle and while it's intended for the advanced amateur, it would handle quite well in the hands of many pros.
Its strength is in the control that it provides but we also found it to produce some zippy shots. The biggest difference with this paddle is that it uses two different types of rubber – one more attacking and the other for more defensive strokes. While this sounds ideal for some, it can also be quite uncomfortable for others.
It's one of the lightest paddles we've tested at 6 ounces and has a 4-inch handle to suit players with larger hands.
The Butterfly 702 is similarly priced as the Killerspin and should be considered if you're more suited to an all-round playing style.
Want more options? Check out our best ping pong paddle reviews or best ping pong paddles for beginners.
Our verdict
Considering all the factors we've mentioned (including paddle construction, materials and paddle characteristics), there is a lot to like about the Killerspin JET 800.
As an attacking player, you will love the power it can generate and it will provide you with new ways of adding spin into your game.
It may present some challenges for your game, such as determining how much force to apply and learning how to return fast paced strokes. But it will certainly inject a lot of fun into your game.
It's one of the highest quality premade paddles that we've reviewed and should be a consideration for the serious table tennis player.