STIGA is a brand that is well known in table tennis circles. The company was formed in Sweden and started making equipment in 1944.
By the 1960s, almost every home, company and school in Sweden had a STIGA product. The name STIGA became synonymous with quality, progress, fun and success.
Today, STIGA continues to be one of the leaders in table tennis equipment manufacturing and is popular all over the world. The full assortment of table tennis equipment by STIGA is now sold in over 140 countries.
We take a look here at some of the best STIGA ping pong tables suited for your home, office or club. If you prefer other brands, check our review of some of the best ping pong tables available today.
We hope you find our recommendations useful. Just so you know we may collect a small commission from links on this page.
Best Mid Sized STIGA table
STIGA MIDI Space Saver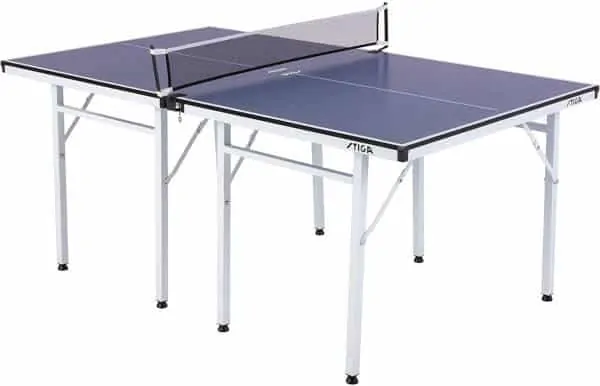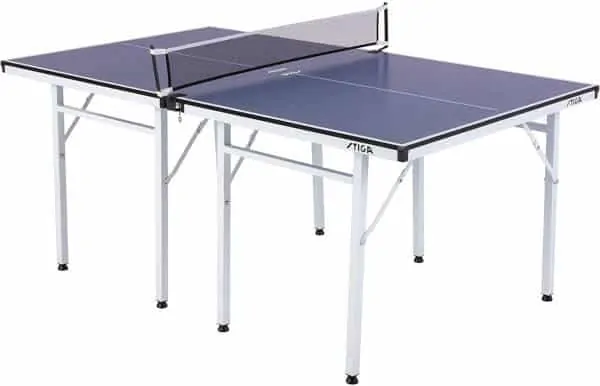 Weight: 66lbs
Tabletop: 12mm fiberboard
Colour: Black or blue
Warranty: 1 year
Dimensions: 72in (181cm) L x 40in (102.5cm) W x 30in (75cm) H
For rooms that are tight on space, STIGA offers a range of mid sized tables. Our pick from their line up is the STIGA Space Saver.
The tabletop of the STIGA Space saver uses high-quality fibreboard measuring 12mm. STIGA have maintained the true aspect ratio of a regulation table with this design, which is helpful for younger players that make the switch from a mid sized table to regular size.
The table features inclined table borders that help reduce the risk of accidents if contact occurs with the table top. The table frame also has 8 legs, which provide enough stability for a mid-sized table.
What we like:
Features a best in class (mid sized tables) playing surface. The top is finished with a repeat roller coat process which helps produce the same bounce and playability as regular tables.
Leg levellers are also there to help protect your floors and adjust the table to ensure a flat playing surface.
The Stiga Midi Table Black Edition comes in a timeless, black design that you'll want to leave on display. It lets you lead an active lifestyle without compromising on your room decor.
It only takes a few minutes to fold up and store.
What we don't like:
It's a smaller table, so players accustomed to regular sized tables will notice the difference and will need to adjust their shot making accordingly.
It comes with a net but the posts are poorly made. Be careful not to knock them with too much force.
The hinges on the legs could do with some reinforcement. The table is not made to handle excessive weight so make sure players don't accidentally sit on it.
It doesn't include any wheels for moving the table, so you'll need to carry it and it may require two people.
Best Recreation STIGA Table
STIGA Advantage
Weight: 181 lbs
Tabletop: 3/4 inch thick high-density MDF
Frame: 1.5 inch Self-Opening Legs & Steel Tube Aprons
Wheels: 4 inch Casters with Locks
Dimensions
Play position: W: 60 inch D: 108 inch H: 30 inch.
Playback position: W: 60 inch D: 66 inch H: 64 inch
Storage position: W: 60 inch D: 28 inch H: 64 inch.
The STIGA Advantage is one of the most versatile rollaway tables that would suit the majority of amateur players.
Being an entry level table it does not match the quality of steel or sturdiness of professional tables. But for the recreational player it's well made and is excellent value for money.
The STIGA Advantage is a regular sized table that comes in ¾" and 1" table top thickness.
What we like:
After playing on this table for several days we found the bounce to be impressive and one of the best you'll find for entry level tables.
The tabletop i s finished with a multiple roller coat paint process on both sides and then UV cured and PVC edge-banded for a durable and perfectly smooth finish.
STIGA have used a silkscreen striping process that prints the playfield lines onto the top. This is much smoother than other competitor methods that are applied like a sticker on the table which can impact the direction of the ball bounce.
The net is of a high quality and it uses a professional grade clamp, which would even surprise those in the market for a high-end table.
Comes with a safety latch which helps prevent the table from opening unexpectedly when stored.
What we don't like:
Being an entry level table, the legs and apron do not match the quality of steel or sturdiness of professional tables. The hinges are also rather weak so we don't recommend moving it around or leaning on it.
The table surface is prone to scratching easily, so we recommend protecting it with a table cover.
The table is heavy, therefore not easy to move.
Best Outdoor STIGA Table
STIGA XTR Outdoor Table Tennis Table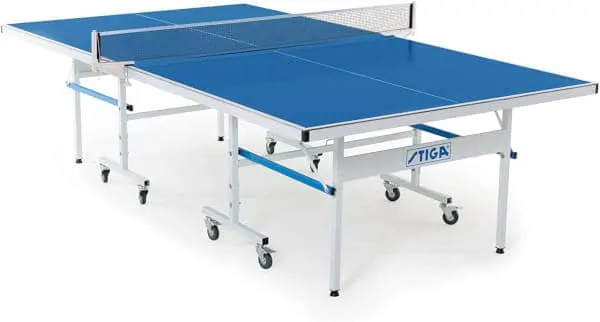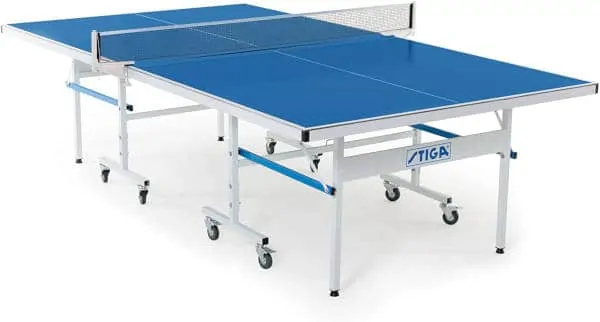 Weight: 164 pounds
Tabletop: 6mm thick aluminum composite
Frame: Galvanized steel using an exterior grade powder coating
Warranty: 1 year
Dimensions: 63 x 57 x 4 inches
The STIGA XTR is a solid selection for those looking for an entry-level outdoor table tennis table.
Outdoor tables often don't get as much use as indoor tables, so if that's the case for you then you might consider the STR as it's great value for money.
If you're looking for more performance, STIGA also produces a Pro version of the STR, which is much more sturdy and durable.
What we like:
The table arrives 95% pre-assembled so you can get the table from the box to play in 10 mins.
The STIGA XTR is weatherproof made with materials that will withstand wind, rain and sunshine. This includes the frame and the tabletop, which is lined with an additional silky coating to add more protection.
The table comes together as separate halves which is great for storage in the colder months.
Setup is convenient and easy with the legs automatically deploying when opening or folding the table.
What we don't like:
It delivers an underwhelming ball bounce when compared with regular indoor tables.
The sturdiness of the frame is lacking. We recommend storing the table undercover as a gust of wind may knock it over.
It only comes with 3-inch wheel casters which are really intended for indoor use. We don't recommend transporting the table over rough surfaces or long distances.
The silky coating used on the tabletop unfortunately reflects the sunlight, which impacts gameplay on sunny days.
Best STIGA Table for the Office or Club
STIGA Expert Roller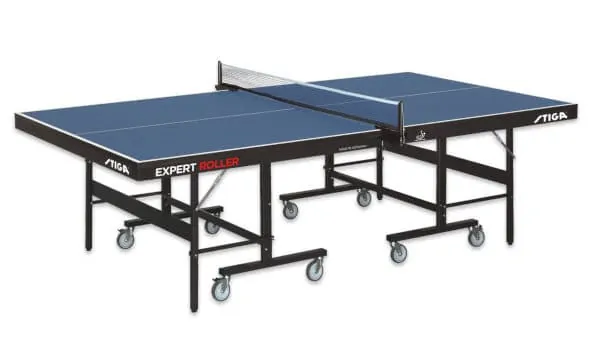 Weight: 273 pounds
Tabletop: 1″ blue top – competition grade
2 1/4″ wood support apron
2 1/4″ x 1 1/2″ steel self-opening legs
ITTF-Approved: Yes
Made in Germany
Warranty: 1 year
Dimensions:
Playing dimensions: 5′ W x 9′ D x 30″ H
Playback Dimensions: 60″ W x 71″ D x 74″ H
Storage Dimensions: 60″ W x 28″ D x 74″ H
Now if you're looking for a heavy duty table, maybe for your office or table tennis club, then the STIGA Expert Roller is a great choice.
The STIGA Expert Roller is a high performance competition table that is ITTF-Approved for tournament play. It's built to withstand aggressive play with its sturdy 2 ¼" reinforced wood apron and 2 ¼" steel frame.
While also providing exceptional playability, the table is built to last. Compared with our recommended Tournament grade table, the STIGA Optimum 30, it's lighter, cheaper and has a slightly different surface. But most players will not notice the difference!
What we like:
The one-inch thick competition-grade tabletop with regulation style striping produces excellent bounce and spin. It's a surface fit for the pros.
The sturdy frame and reinforced wood apron make this a well built table designed for durability.
Moving the table is surprisingly easy even with the heavy weight. The table separates into two halves and moves on 4″ ball bearing wheel casters.
When storing the table, the CSS-system allows each table half to nest together taking up a minimal amount of space.
The table includes extra safety fittings which help secure the table during storage and playing positions.
What we don't like:
Unfortunately the table doesn't include any storage space for balls or rackets. Something you might expect for a premium table.
The price difference between an entry level table and the STIGA Expert Roller is significant.
STIGA only offer a 1 year manufacturer defect warranty on their tables. You can find other tables in the same category which come with more.
The table will require assembly by at least two people to get up and running.
Best STIGA Table for Tournaments
STIGA Optimum 30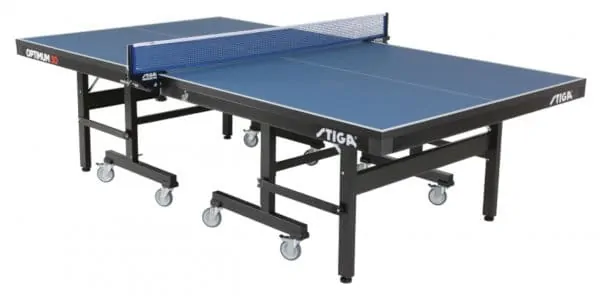 Weight: 310 lbs
Tabletop: 1- 1/5" Tournament blue top
2 -2/5" Profiled steel apron
2-2/5" x 1-3/5" Steel legs
Made in germany
Warranty: 1 year
ITTF Approved: Yes
For table tennis clubs hosting competitions or tournaments, our pick from the STIGA range is the STIGA Optimum 30.
This table is designed for the astute enthusiast and table tennis clubs- it's a Rolls Royce of table tennis tables.
While buyers should be prepared to pay a premium for this table, the difference between the STIGA Expert Roller isn't world's apart. Check out the links above for the latest prices, but keep this in mind if you're considering a higher end table.
What we like:
This table provides unparalleled evenness and consistency in the ball bounce. It's as true of a rebound as you will experience.
The tabletop is pre-treated multiple times and then coated with a special varnish providing the ideal amount of friction for spin and speed.
As you would expect, the table is made to withstand heavy duty play and is built to last a number of years of regular play.
The table separates into two halves and includes 4" casters for easy transport.
It stores with little space. The Optimum 30 actually requires less space than the STIGA Expert Roller.
What we don't like:
Similarly to the STIGA Expert Roller, it doesn't include built-in storage space for balls or paddles.
This is a heavy table weighing over 300 lbs and it requires approximately 1-2 hours of assembly to get up and running. It's recommended that at least two people assemble the table.
As with all STIGA tables, it only comes with a 1-year warranty against manufacturer defects. There are other tables in this category which come with longer warranty periods.